Richard Kelly, website auteur.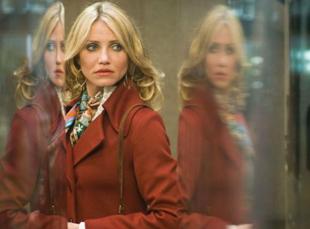 Posted by Vadim Rizov on
Richard Kelly might be one for two in terms of the movies he's had in theaters so far, with "Donnie Darko" arguably the only real cult classic of the decade and "Southland Tales"… not. But one thing he has been consistent with are the dense, enigmatic websites that support his films.
"The Box," his third feature, opens November 9th, and the full-on Flash-powered head game of a website went live last week, a fitting follow-up to the mind-bending online homes of "Donnie Darko" and "Southland Tales."
All of these sites demand immersion and ask you to ignore your usual browser tabs and listen to audio loops while paging through teasingly opaque tangents and connections. Lines sprawl out all over the place; skulls and fake texts of a pseudo-scientific nature are the norm. In truth, I've never been able to piece how any of these websites "work" or if they add up to some kind of larger narrative, because I've never had five spare hours to work through them.
But I like that they're there: they're as entrancingly mysterious as the best parts of Kelly's work without the dull explanatory stuff. "The Box"'s website was designed by Crew Creative, who haven't worked with Kelly before but have definitely retained his usual hallmarks.
The site for "The Box" is laden with creepy images and clips (at least as much, if not more stuff, than is in the actual trailer), so if — like me — you can't wait to see what happens when Kelly's creative excesses are kept in check by a studio, it's worth exploring. Up online is also about five minutes of the score by The Arcade Fire's Régine Chassagne and Win Butler and Final Fantasy's Owen Pallett, which is creepy and subtle in all the right, Bernard Herrmann-esque ways. In the low-bar world of movie websites, Kelly's proven the most ambitious, openly involving himself in the process and promising fully conceived, complex universes that extend far past what's shown in the cinemas. And he gets it right every time — more so, really, than in his movies.
[Photo: "The Box," Warner Bros., 2009]