Rewriting the heartland: "Fargo Rock City."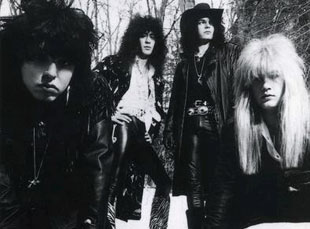 Posted by Vadim Rizov on
Chuck Klosterman's "Fargo Rock City" might be my favorite book about music, because it does the one thing great music writing should do: it sucks you in even if you don't care about the actual tunes at hand. In my case, I could care less about the collected musical legacies of Tesla and Cinderella, but Klosterman's book presents his beloved '80s hair metal through irresistible compact sketches of his rural North Dakotan upbringing.
"Fargo Rock City" seems unfilmable: it's all Klosterman explaining what the music meant to him, without stand-alone anecdotes. But that isn't going to stop "Letterman" writer Tom Ruprecht and The Hold Steady's frontman Craig Finn, who've purchased the rights to the book and are adapting it into a coming-of-age comedy.
Apparently the pair are going to just mine the book for atmosphere and details rather than 15 debates about whether or not metal is sexist. The fact that they want to use a story about a faulty ATM that gave Klosterman other people's money for months as "metaphors of the gilded age and easy credit of both the 1980's and the past few years" seems a little dubious to me, but their basic POV makes sense. They want to tell a "universal story of dorky kids trying to be cool."
The thing is, in film the Midwest is frequently portrayed as a nightmare zone. There's "Fargo" and Alexander Payne's "Citizen Ruth," "Election" and "About Schmidt" — all painfully dead-on, but with the emphasis on "painful." I'm hoping Finn (who grew up in Edina, MN) and Ruprecht mean to show the Midwest in a more nuanced way: dull and flat, maybe, but not the nightmare zone Talking Heads sang about in "The Big Country": "I wouldn't live there if you paid me to." It's about time.
[Photo: Cinderella poster, 1980s]