Queen of the closed loop of Hollywood news.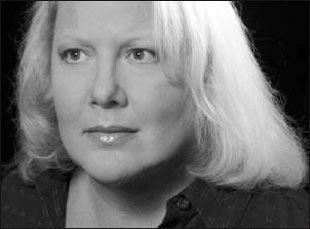 Posted by Vadim Rizov on
What makes Tad Friend's massive New Yorker piece on Nikki Finke a must-read is its angle of genial observation. Finke is the feared, acerbic queen of the hermetic world of Hollywood industry reporting and blogging, but Friend's sympathetic depiction levels the playing field, presenting her to a wider audience in the same way the magazine would profile a respected city-planning engineer or an obscure author. She's no omniscient power-broker, just another curiosity, and Friend admirably unpacks a nuanced portrait of her and what she means to Hollywood.
A key quote: "Unlike most Web-based journalists who cover Hollywood, Finke is not a film buff. Her favorite movies include 'Legally Blonde.' Jeremy Gerard, who edited her when she wrote for New York a decade ago, says, 'Nikki doesn't care about content–she's interested in power, and in who's doing what to whom to achieve power, maintain power, and expand power.' "
Unlike Anne Thompson or Jeffrey Wells — who combine industry news with the odd critical judgment and the basic sentiment that the movies are ultimately what matter — Finke cares only about real-time reporting of studio power machinations. Her audience is a closed loop: the people who care about what she covers are pretty much the ones she's writing about. For most everyone else, there's an odd void at the core of her reporting: it covers what happens, but not why it matters, aside from the fact that Finke herself is at the center of it, the world's busiest telephone switchboard operator.
Finke's typically gracious response to the piece was to brag about how it was "easy to manipulate" Tad Friend as well as editor David Remnick, "whom I enjoyed bitchslapping." More to the point, Finke is fuming that the New Yorker "really bent over for Hollywood," acceding to publicity requests to delete "every reference to Paramount's Brad Grey," as well as other sundry omissions.
She's missing the point. What she wanted was to have "the truth" about certain people/rivalries exposed; what she got as an article that says, as mildly as possible, that Finke's power is ephemeral. She's not the modern Hedda Hopper, helping to ruin the careers of people she dislikes with a single keystroke; she's a conduit for gossip in an industry where senseless firings and upheavals are the unstoppable norm. The world may care about what the studios put out, but about who's in charge of them at any particular moment? Not so much.
[Photo: Nikki Finke]