Q&A with Jim Sampas: Film, next frontier for Jack Kerouac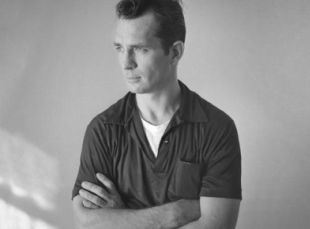 Posted by Brandon Kim on
Last month I wrote about the documentary "One Fast Move or I'm Gone: Kerouac's Big Sur," a trip through the places, physical and otherwise that inspired Kerouac's 1962 novel, Big Sur. It features a soundtrack by Benjamin Gibbard (Death Cab for Cutie) and Jay Farrar (Son Volt). Check that and a trailer out here.
[The original Dharma Bum, Jack Kerouac]
I recently had a Q&A with the film's producer Jim Sampas, whose Uncle happens to have been Jack Kerouac. Sampas encouraged me to throw the ipod out the window. I like his style. Dig that below and check your local listings for the film here!
Aside from "One Fast Move or I'm Gone," you've got "Dharma Bums" and "Big Sur" feature films in the pipe. What's behind this Kerouac salvo, or is it finally just time?
Isn't it amazing that Kerouac is now considered to be in the canon of great American letters, taught in universities throughout the world? The next frontier for Kerouac will be film.
How did Jay Farrar and Benjamin Gibbard come to be involved in the soundtrack for "One Fast Move or I'm Gone."
I'd been listening to a great deal of Americana and alt country music, much of which, as with Kerouac's work, is grounded in tales of the American heartland. Given the cadence, rhythm and intimacy of the prose of 'Big Sur' I thought this particular novel would lend itself to song with the right collaborator. I'd met one of the pioneers of alt country, Jay Farrar, from his work on a tribute to Bruce Springsteen's Nebraska I had produced years ago. I had read that Jay had been influenced by Kerouac's 'spontaneous prose,' that he used a similar method in songwriting. Ben is one of his generation's best lyricists, his playful enunciation and unique singing style drew me toward him. While Ben and Jay's music differ in style, I just guessed that these two could create a fascinating blend of music.
What do you hope the film achieves?
'Big Sur' is Jack's most personal and confessional novel. I am blown away by his courage in writing about his own spiral downward with such honesty and depth. My goal is that this film we've created influences a younger generation to embrace this work. And if people who see this film are inspired by Jack no holds barred honesty, wouldn't that be incredible?
You've been involved in a heap of projects focusing on cultural figures and icons. They're all very musically inclined, and your taste shows in the music supervising you've done (a glance at the soundtrack for "Condo painting" is impressive). How does music and film come together for you?
The thing I find so fascinating about producing and music supervision is the happy accidents that occur throughout the process. I experiment with many different styles of music against images, cutting and pasting things together arbitrarily. Somehow you find the right mixture.
What are you listening to lately?
Headlights, The Owls, Ane Brun, William Fitzsimmons
I'm worried that "Dharma Bums" is going to make me want to drop out of society. What can you tell me about it?
If you do I bet Jack would tell you 'you'll be okay' – that the search for Dharma or 'truth' will not fail you. Kerouac's dream was for his work to be made into film and I believe that moment has arrived. With technology and a hyper reality being dialed into us at a frenetic pace, our natural instinct is to seek meaning beyond manufactured possessions or feelings. Maybe we should take your lead, throw the television, ipods, xboxes, out the window, and all become 'Dharma Bums.'
Which of your legendary Uncle's books is your favorite?
That would be Doctor Sax, his only work that merges real life experiences with fantasy. An eleven year old Jacky watches as vampires, gnomes, and "werewolves of the soul" descend upon his hometown as Doctor Sax a mysterious, William Burroughs-like character attempts to ward off the "great world evil." I can't get enough of this one, and can read it over and over again, it's sorrowful beauty bringing something new each time.

"One Fast Move or I'm Gone: Kerouac's Big Sur" opens in NYC on October 16th and in LA on October 20th. A limited release in top 40 markets follows.