Why Oprah won't hurt "Precious"'s Oscar chances.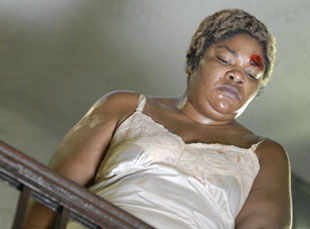 Posted by Vadim Rizov on
A few reasons why the upcoming "Precious: Based on the Novel 'Push' by Sapphire" is a lock for a Best Picture Oscar nomination, not to mention a likely box office sleeper hit:
1. There are ten best picture slots open this year. It can't not get a nod after winning both the Sundance audience and jury prizes.
2. It's a melodrama that doesn't waste time on stuff like "nuance," going straight for the jugular with uncomplicated bursts of emotion (Brutality! Joy! Soul song montage!). And people like that — the film got 80% "definite recommend" scores at at a test screening. At a Magic Johnson's in Harlem. Despite the dark subject matter, "Precious" is not a hard sell. It just sounds like one, but so did an Indian movie with police torture.
3. Tyler Perry and Oprah Winfrey have added their names in support — in fact, Oprah's going to devote a whole week of her show to promoting the film.
Puzzlingly, this last fact has caused the New York Post's Lou Lumenick to express concern that the pair's endorsement is going to spark a backlash that will hurt the movie's Oscar chances, because Oprah "simply does not wield the same influence in the film world that she does with literature and theater," and Perry's "best known to Oscar voters as the cross-dressing star/director of wildly popular lowbrow melodramatic farces."
Lionsgate, the distributor putting out "Precious," has never been one to stay up late at night worrying about Oscar prestige — they're looking to have the film break out from usual indie markets. Lumenick's claim that Oprah doesn't wield influence when it comes to film because she loved "Australia" and it still bombed doesn't speak to the African-American audience that'll be mobilized here. (That goes double for Perry.) And Lumenick's implications of Academy snobbery — and how they'd look down on the "wildly popular lowbrow" — don't take into account fears of growing irrelevance, best epitomized by 2005 host Chris Rock's stinging segment in which he took a camera crew to a (hey!) Magic Johnson theater in L.A. and found that most of the moviegoers there hadn't seen any of the best-picture nominees.
There are two things that could damage "Precious": inadequate marketing (which seems unlikely at this point) and gay themes. Director Lee Daniels is openly gay, and [MILD SPOILER ALERT] "Precious"' most redemptive character turns out to be lesbian (leading to Precious' most indelible voice-over commentary: "Oh shit! They straight-up lesbians!"), which may play poorly with the not-inconsequential segment of the African-American community that's virulently homophobic. (Even then, they're lesbians, not openly gay men; bets successfully hedged.) Aside from that? Path cleared. Seriously. Those Oscar-prediction mills are grinding awfully fine this year.
[Photo: "Precious," Lionsgate, 2009]