How's a porn star supposed to go legit in these troubled times?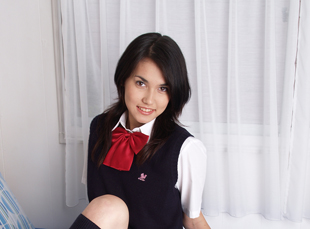 Posted by Vadim Rizov on
Miyabi (real name: Maria Ozawa) is a 23-year-old Japanese porn star whose resume includes such tantalizing credits as "Monster Swallowing Ecstasy Maria Ozawa" (live-action tentacle porn), "Fallen Urine-Drinking Pig Idol" and "Multiple Black Rape." And she was on the verge of broaden that resume with her first dramatic role — in an Indonesian film called "Kidnapping Miyabi" — when outrage from local religious groups caused the production to shut down.
Indonesia's censorship laws are tough — not surprising, considering it's the largest Muslim country in the world. "Kidnapping Miyabi" was supposed to be an innocuous teen comedy, where fans obsessed with her porn "accidentally kidnap her," and she ends up opening a lingerie shop. "We have announced that we will put her on a pure comedy teenage movie, without any sex scene at all," said Yoen K., one of the producers. "We want to release the film on December 31 so it will be a Happy New Year movie."
It's hard to argue with that logic, but Indonesia's fundamentalist Muslim groups weren't having it. "We will continue to reject her even if she will not be nude," said Ma'ruf Amin, a member of the Muslim clerics' board Indonesian Ullema Council. Umar Alatas of the Islam Defenders Front went one better: "If she comes here, we are ready to die fighting to cancel her visit." There were protests and counter-protests; underwear was burned.
It's worth noting that Miyabi is the most-Googled celebrity in Indonesia, and pirated copies of her DVDs have soared in Jakarta since the controversy. She's not quite Japan's answer to Sasha Grey, whose always made a big show of tying in her adult work to her reputation as hipster porn goddess — the hardcore idol who loves Godard — making her a natural to star in a Soderbergh movie. She's poised between sexual extremity (have you ever seen live-action tentacle porn? I won't link to it, but the first Google result is pretty disgusting, if you want to go there) and conforming to traditional Japanese womanhood. When asked about her relationship with a J-pop idol, she said "If I'm dating someone I will stay devoted to him! I have a rule against sex friends. It's not a good thing, plus having one boyfriend is enough."
Which isn't enough for the Indonesian clerics who worry "many teenagers will see [out the movie], then after that they will idolise her and we are worried that they will eventually seek out her porn films." Given her Google/bootleg stats, it seems like a lost battle, but it's nice that somewhere where Traci "Hairspray" Lords doesn't exist, porn stars going mainstream is still controversial.
[Photo: a Maria Ozawa e-card, cropped to be SFW]