Monty Python: 40 More Years!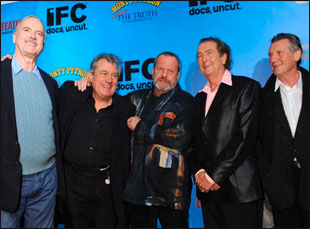 Posted by IFC on
John Cleese, Terry Gilliam, Eric Idle, Terry Jones and Michael Palin, the five surviving members of Monty Python, gathered at New York's Ziegfeld Theatre for a rare reunion in order to celebrate their 40th anniversary and to receive a special award from the British Academy of Film and Television Arts.
After a screening of a feature-length cut of the new documentary "Monty Python: Almost the Truth (The Lawyers Cut)," the five gathered on-stage (with a cardboard cut-out standing in for the late Graham Chapman) to answer questions from the crowd, banter, invite a ten-year-old girl up to do her impression of their "Spanish Inquisition" sketch and sing "The Galaxy Song" from "The Meaning of Life." You can watch a video of the session here.
[Click the thumbnails to see the images full size.]