A Damned Good Acting Lesson From Michael Sheen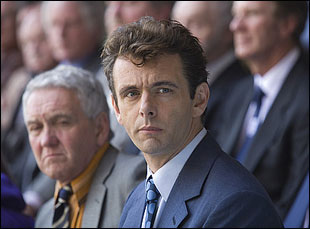 Posted by Stephen Saito on
Michael Sheen is an excellent interview, not that he hasn't had the practice. Coming off an acclaimed turn as journalist David Frost in last year's "Frost/Nixon," Sheen once again plays a man who sits in judgment as Brian Clough, the brash soccer manager given to tossing out bon mots like "Rome wasn't built in a day, but I wasn't on that particular job" before he's humbled by a disastrous 44-day stint in charge of the revered Leeds United squad in 1974. Although Clough spends much of "The Damned United" in the hot seat, Sheen clearly relishes playing the alternately cocky and vulnerable tactician who struggles in the shadow of his successful predecessor Don Revie (Colm Meaney) and without the help of his trusted assistant Peter Taylor (Timothy Spall), who's since moved on to coach another team. Although Sheen was already comfortable on the practice pitch — he was recruited to play for Arsenal when he was 12 — the actor could also rest assured that "The Queen" screenwriter Peter Morgan would make the most out of Clough's colloquialisms in their fourth collaboration together. Sheen recently sat down to talk about his relationship with Morgan, the thrill of playing iconic roles and why jawlines are so important.
How did the love story between you and Peter Morgan start?
It started out the same as any other love story, really, with the two main characters not liking each other. Stephen Frears was doing a film called "The Deal" for British TV, about Gordon Brown and Tony Blair, and I'd worked with Stephen many years before on "Mary Reilly," which is the first film I'd ever done. Stephen decided that he was not going to make the film unless I played Blair, but I was doing a play at the time in London, so it meant that they had to change the filming schedule around to accommodate me doing this play.
Peter [who wrote "The Deal] was very annoyed that his film wasn't going to happen at the time he wanted because of this upstart actor he'd never heard of and never met. So it started not particularly auspiciously, and then we got to know each other on the film and it all went from there.
I'd heard "The Damned United" director Tom Hooper say that you had watched the television interview between Clough and Don Revie that serves as the film's climax close to 40 times for preparation — what do you pick up on the 40th time that you might not necessarily on the first or 15th?
More than [40 times]. I need to watch it that many times so that I stop listening to the surface of it. To begin with, you're obviously listening to what [Clough] says and the way he looks and all that stuff and eventually, you go past that. I get so familiar with it that something else starts to speak to me. It's like there's some sort of subliminal message in it, but I have to distract my conscious mind in a way so that as I'm watching it and listening to it, slowly as I come to know every word he says, every inflection, every movement, everything that he does in it — not because I want to copy that, I just want to get past that. I need to get to the point where I'm getting something invisible off it, and that's when I understand what's actually going on, or I feel like I've made an imaginative connection to him.
Looking at your upcoming films as well as what you've done in the past few years, you're portraying so many iconic figures, historical or fantastical. Does it ever get daunting?
It's always daunting, yeah. I think that's part of what I like about it, the risk factor. At first, when I started playing real-life characters [like Tony] Blair that people were very familiar with, it was frightening. As it got closer and closer to doing it, I thought "oh, no one's going to accept me as this character. What was I thinking?" And that's never really changed. [slight laugh] I thought it would get easier, maybe, but it hasn't really gotten easier at all. But I like that, the thrill, the motivation of it — it makes me work harder, go further and push myself — I've come to really appreciate that.
So when you play an iconic character like the White Rabbit in "Alice in Wonderland" or Aro in "Twilight" or whatever it might be, I like the fact that people have expectations, and that you can use those expectations and subvert them.