Michael Haneke's abiding sadness.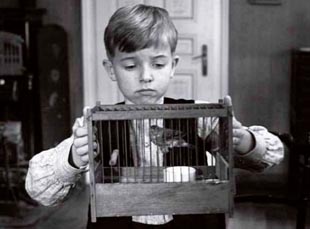 Posted by Vadim Rizov on
Michael Haneke's fondness for scolding didacticism just don't work for some people, myself among them. But "The White Ribbon" is a whole other thing, a movie where anything dreadful that can happen will, just to prove that people are so terrible you can't even count on them not to turn into Nazis, or something like that. Set in a small German town in the year leading up to WWI, the movie doesn't let up from the first shot, in which a doctor breaks his arm when his horse trips over a maliciously strung wire. More evil pranks follow, perhaps enacted by a creepy group of blond kids, like an arthouse "Village of the Damned."
The press corps assembled at Lincoln Center responded in surreal kind. Things started easily enough, with Haneke noting that he doesn't believe in rehearsing actors: "It's the first take that's the best. Either the first take or the 25th." He explained a subtitle peculiarity: the handwritten-font scrawled beneath the title (which translates as "A German Children's Tale") isn't translated for English-speaking audiences because each country should see it as about themselves.
And then it got weird: Someone asked if Haneke was influenced by Arthur Miller's "The Crucible," which seemed a little left-field. No, he said, "I didn't have Arthur Miller's play in mind." Someone went even farther afield and compared the film's language to that of turn-of-the-century novelist Arthur Schnitzler (whose work inspired "Eyes Wide Shut"). No dice there either. Someone followed that up by complaining about how inadequate the subtitles were; Haneke noted his English wasn't good enough to check.
At this point, clearly exasperated moderator Richard Peña flat-out stopped taking questions for a while and asked two of his own — about the use of black-and-white (intended both as a way to respect our perception of the era as taking place in black-and-white photos, and as a way of creating distance between the audience and film) and compositional strategies. Haneke apologized for a 35mm print screening instead of a digital copy, which would've been much sharper. Black-and-white prints are apparently near impossible to do properly now: Hanake's tried to make a perfect print in three studios in Austria, Germany and France, and he's still not happy with the results.
Then Pena opened the floor back up. Mistake. A woman asked a rambling two-part question. Part one: something about his "approach to the frame." Part two, 40 seconds later: "I just want to ask if you have some abiding sadness in you." Haneke's answer: "I don't think I'm a depressive, but you'd probably best ask my wife, who's sitting at the back of the theater." With that, the most unintentionally hilarious press conference of the festival was over," and "abiding sadness" became my new favorite phrase.
[Photo: "The White Ribbon," Sony Pictures Classics, 2009]