"Metropolis," as it was meant to be seen! (For real, this time.)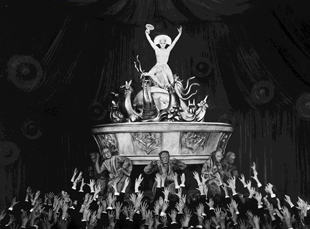 Posted by Vadim Rizov on
Few movies are as incomplete yet overwhelmingly influential as Fritz Lang's 1927 "Metropolis." Any movie you've seen with enormous, gigantic architecture set in an ominous future or a mythical past — "Brazil," "The Hudsucker Proxy," "The Fifth Element," even this year's "The International" — stole some of its moves from Lang's skyscrapers and underground dens.
Brutally cut upon release and restored and re-released an impossible amount of times since, "Metropolis" is finally whole again. A complete 16mm copy was discovered at Argentina's Museo del Cine last year, and the complete restoration will premiere February 10 at next year's Berlin International Film Festival.
There's a condensed version of how the print was found here, though a better rendition, from September 2008's Sight & Sound, is sadly not online. Basically, it'd been sitting, forgotten, in the archives until museum director Paula Félix-Didier's ex-husband remembered hearing about how a horribly degraded, two-hour plus copy used to be shown and tracked it down. They flew the wobbly print to Berlin, and now, after 80 years, "Metropolis" has been reconstructed.
For anyone who's, say, had to watch "Metropolis" way too many times in film classes, this is not necessarily the most exciting news — personally, I've seen it twice in its last "definitive" reconstruction. Still, I'm happy this next go-round should be the final and best one.
Either way, there's a surprising amount of room for argument and subjectivity when it comes to getting a film back to "the way it was originally meant to be seen." In an earlier "definitive restoration" of "Metropolis" from 1984, in exchange for performing the public service of restoring the frame-rate to its proper speed and tinting the colors, music producer Giorgio Moroder felt free to slap a Pat Benatar score on top of the whole thing. The result's actually kind of hypnotic:
[Photo: "Metropolis," Kino, 1927]