One from the heart for Lee Daniels.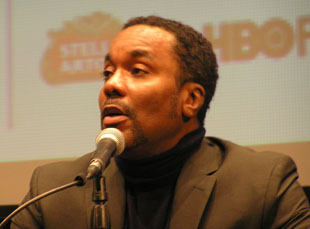 Posted by Vadim Rizov on
"Precious: Based on the Novel 'Push' by Sapphire" is, in theory, the miserable story of the titular 300-pound teenage girl (Gabby Sidibe), who's raped into having two children by her dad and abused by her mother (Mo'Nique) until she meets an inspirational teacher (Paula Patton) who changes her life. In practice, the New York Film Festival's centerpiece film is a slickly effective melodrama — the kind of movie where a dream sequence of someone having her ear kissed inevitably means a dog's actually licking it, but also a world where a little soul music and a few platitudes actually convey tremendous meaning.
Without a doubt, the film comes from a well-meaning place. After hearing director Lee Daniels speak with palpable sincerity, it's almost impossible to credit him with bad faith. At the festival's press conference, Daniels explained what resonated with him when he first read performance poet Sapphire's novel: "When I was 11, there was a girl in my neighborhood who came to my home. She was seven-ish. It was in the afternoon, in broad daylight; she was naked, and she was bleeding, and she was crying. And she said, 'My mommy's gonna kill me.' And I remember a feeling of nausea, anger and fear; I can't describe the feeling I had. And looking at my mother, who was for the first time afraid. And I read the book, and I had the same feeling. I wanted to heal."
As a producer, Daniels is responsible for "Monster's Ball" and "The Woodsman," among others, but he's excited to get new audiences — which, given heavy-duty support from Tyler Perry and Oprah Winfrey, he almost certainly will. "You know, I did [those movies]," he explained, "and we won Cannes and the Academy Awards. My family and friends that I grew up with were not fans or even cared to see that work. So I wanted to do something that was very intimate to them and that they would connect to. I brought that world of what I know to be cinema into the world of the urban. I know that they're hungry for this, and it's a different type of thing that's going on in cinema, and I'm proud that they we were able to marry the worlds and to show black art in a new way."
Casting Precious was difficult, as finding 300-pound black actresses tends to be. The search was long, Daniels said that it was "400 girls later. We were having 'Precious' camps. I started calling ICM, saying 'Do you have a 300 pound–' 'No.' We then moved on to the hood: Detroit, Chicago, Atlanta, Compton, Baltimore, Watts and stuff. I was going to cast a couple of girls, but they didn't have the smarts Gabby has. When Gabby's doing the red carpet stuff [dream sequences in which Precious imagines herself as an R&B celebrity], she's not acting; that's who she is. The other girls really were the character. Gabby was not the character. Gabby is a very intelligent girl, smarter than me."
One of the odder moments in the film occurs when Precious and her mother — both basically illiterate at that point — are watching Vittorio De Sica's "Two Women" on TV. "I love the film, and it was not in the book," Daniels explained. "The argument on set was, 'These women wouldn't be watching 'Two Women.' " I said, 'Well, I am these two women, so shut up.' " It's hard to argue with that kind of conviction.
[Photo: Lee Daniels]