Sexual Perversity in Denmark: An Interview with Lars von Trier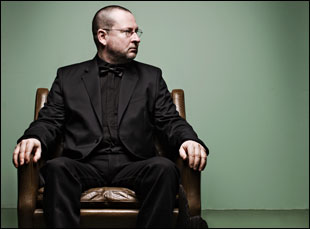 Posted by Aaron Hillis on
What does it take to be hailed the bad boy of Danish cinema? Among other feats, Lars von Trier co-signed the Dogme 95 manifesto, forcing regimented rules upon filmmakers in a cry for anti-blockbuster honesty. His own entry, "The Idiots," pissed people off for featuring able-bodied adults pretending to find their "inner spazz." He began two trilogies he has no intention of finishing (though one of the main actors from "The Kingdom" died after Part II), and forced aging mentor Jørgen Leth to remake his own short film with multiple sets of no-win restrictions in the experimental doc "The Five Obstructions." More notoriously, von Trier has plucked amazing performances out of actresses who don't seem to want to work with him again, including Nicole Kidman (who blamed scheduling problems for why she couldn't reprise her lead role in "Dogville" in the sequel "Manderlay") and "Dancer in the Dark" star Björk, who once referred to von Trier's working methods as "emotional pornography." And on and on you can trace the mischievous milestones of an eclectic and challenging career that dabbles in meta-apocalypses (1983's "Epidemic"), realist dramatic epics (1996's "Breaking the Waves") and avant-garde comedies (2006's "The Boss of It All").
"Antichrist," however, proves the most controversial film yet in the 53-year-old provocateur's career. Made in a well-documented fit of depression, the disturbing psychodrama stars Willem Dafoe and a fearless Charlotte Gainsbourg (who won the Best Actress award at Cannes) as an unnamed married couple who have just suffered the death of their child. Dafoe's character, a psychiatrist, suggests a trip to their remote cabin in the woods in order to treat her post-traumatic paralysis, and that's when all hell breaks loose. Mystical acorn showers, ghostly images between the trees and an animatronic fox snarling "Chaos reigns!" seep into the gorgeously gloomy compositions, and let's just say the images become so boldly graphic (sexually and violently, sometimes at the same time) that at least two audience members have so far passed out. Since von Trier doesn't fly, we spoke by Skype webcam, which allowed us to talk about his shamanic journeys, nipple negotiations and the t-shirt he was wearing that day.
I think it's only polite to ask, "How are you feeling today?"
I'm feeling better. I don't really want to admit it, but I am.
Is it uncomfortable to be continually discussing your mental health with journalists?
No, it's a fact for me, and it has a lot to do with what you're doing… At an early point, I decided that I should talk about my anxieties because it's much easier. So I'm fine about it, but I think the readers must've reached the limit now of knowing about my mental problems. [laughs]
You've demonstrated a puckish sense of humor in your other projects, but this film feels so grave. Would it be wrong to say this is the most sincere film you've made yet?
Yeah, I would say that it's the one film that I tried not to control too much. Maybe some of the humor comes in the second time you write a script. I tried to write it fast, and I hadn't made an effort to not make it symbolic and to not make it too logical, so it's more of a mess than the other films I did, but I think it was somewhat intentional.
"Antichrist" has many champions, but some people booed after a screening in Cannes. Do you take any satisfaction that at least they didn't have a middling response?
You're absolutely right. I have some kind of strange fascination about being yelled at, yes. [laughs]
Could you discuss the relationship in your writing between this more naturalistic story of a grieving couple, and the fever-dream imagery haunting the second half of the film?
A lot of the images come earlier in your life. I made something we call shamanic journeys, where you travel to this parallel world on the drumbeat, and then bring something home. These animals, and a lot of the images from the film, were inspired by this.
Did one of the "Three Beggars" in the film — the fox, the deer, or the crow — represent you on your journeys?
No, no, no. In English, I think it's called an otter. I always thought they were very playful and beautiful animals. You have this power animal that you contact, and that you use.
What kind of research went into the psychology of the film, in both Willem's unorthodox treatment and Charlotte's behavior?
I didn't really have to do much research because the anxiety is something I've fortunately felt too much of. The form of therapy that he's doing — in a very wrong way, of course — is called cognitive therapy, which I've been undergoing for almost three years.
Has it helped?
[laughs] I've tried so many things. Yes, I think it's helping, but it's not a wonder drug. It's the best thing you can do right now.