Ken Loach vs Israel, round four.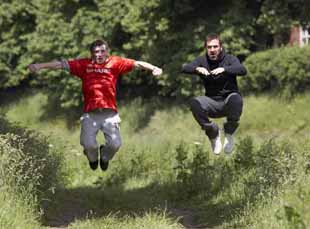 Posted by Vadim Rizov on
Throughout the summer and fall festival season, Ken Loach has gotten more headlines for his statements against Israel than his new movie "Looking For Eric." Now his Israeli distributor is fighting back.
Loach first pulled the comedy from the Melbourne International Film Festival in July because the Israeli government had given the festival funds to cover the travel of an Israeli director. Then he bugged the Edinburgh Film Festival into returning a small grant from the Israeli Embassy, and topped it all off by signing a call for a boycott of the "City to City" portion of the Toronto International Film Festival, which would've focused on Tel Aviv.
It's prompted a stinging statement from Nurit Shani, the CEO of Lev Cinemas and Films, who handle Loach's films in Israel, announcng that profits from "Eric" and Loach's upcoming "Route Irish" would be going toward the distribution of Israeli films at home and abroad. "The original artist, who I considered a great humanist, has turned out to be a man who does not believe in freedom of expression for people whose opinions oppose his own," she added. "An artist that that has not read or did not understand Voltaire." And she called his actions "a slap in the face of democracy."
Loach's response — alongside regular screenwriter Paul Laverty and producer Rebecca O'Brien — sarcastically suggested hope that Shani would fund movies "about those young men and women in Israeli prisons who refuse to join the Israeli army because of the illegal occupation of Palestinian lands. And why not include Palestinian film makers, or is Israel really an apartheid State?" Then they denounced Shani's "bad manners" for not letting them know "Looking For Eric" would be playing in the Haifa International Film Festival.
It's a little wearisome, and Loach has plenty more anti-imperialist rhetoric where that came from ("there are many other oppressive regimes and many war criminals including our own Tony Blair and his henchmen, not to mention the Americans"). It's definitely easier to be principled when you've made one of your most upbeat, accessible films (starring a globally beloved soccer star, which is a huge selling point pretty much everywhere but the U.S.) and have pre-sold it before you hit the fests. But when even outspoken anti-Israel celebrity Vanessa Redgrave doesn't have your back, it's probably time to shut up.
[Photo: "Looking for Eric," IFC Films, 2009]