Kanye West's inner "Wild Thing."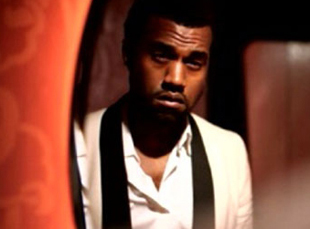 Posted by Vadim Rizov on
It's not a great time to be either Kanye West or one of his fans. After his umpteenth public freak-out, interrupting Taylor Swift at the MTV Video Awards, his tour with Lady Gaga was canceled, and rumors are flying that West is hiding out somewhere, doing his best to purge himself of the demons that make him act like a jackass in public. Spike Jonze to the rescue!
Having now steered the story of one outburst-prone lad to box office success, the "Where the Wild Things Are" director has rejoined Kanye for the collaborative short film "We Were Once A Fairytale," which you can watch below. It's a mixed bag. The first three unbelievably awkward minutes rank with Jonze's best work: Kanye's drunk in a club somewhere, boorishly hitting on everything in sight, telling everyone who already knows who he is "This is my song!" Kanye's scarily good at playing the worst possible version of himself. But then there's a sex scene, and then it gets all surreal/symbolic and becomes kind of stupid.
It does make for a neat companion piece to "Where The Wild Things Are," a parallel tale of an infantile man-boy who acts out, despairs, purges himself of those negative feelings and learns to control them. It's about as "adult" as Jonze's work gets — the sex, the clubbing — yet that regressive aesthetic is in full force.
Better, "We Were Once A Fairytale" really clarifies who Jonze is, besides a talented technician with an imagination. He's a kid who relates to other kids who never learned to process their emotions in a sophisticated way, no matter what age they are. That's something that holds as true for "Jackass" (which Jonze co-created) as it does for the hyper-articulate, despairing protagonists of "Being John Malkovich" and "Adaptation."