Jennifer Aniston, Rorschach blot.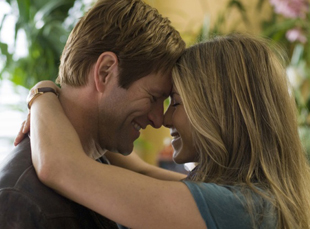 Posted by Vadim Rizov on
Jennifer Aniston may not be the most obvious topic for a think piece, but the UK release of "Love Happens" has inspired a few fascinating ones. In the Independent, Ben Walsh defends her as "the most gifted American comic actress of her generation." In the Guardian, David Cox muses on the irony that Aniston — our most famously frequently dumped A-list celeb — cranks out movies "fueling the furnace that's consumed her own romantic hopes"; he accuses her of peddling romantic daydreams when she should know better. In both cases, the writers fixate on Aniston as emblematic of everything wrong with recent romantic comedies.
Aniston's been trapped for a while now in the undignified position of being a poor woman's Sandra Bullock. Her own movies aren't any worse (see "All About Steve"), but when they do well at the box office, their success never seems to be particularly attributed to her. But it's the idea that Aniston's real-life romantic dramas (and failures) somehow enhance and complicate her on-screen persona that's the real kicker.
Here we have two writers suggesting that — in the absence of anything to say about the movies themselves — we should contemplate Aniston's rom-coms through the lens of her public life and speculate on the clash between what we know about her and the characters she plays over and over again. Which is really just college dorm room stoner logic — as if our understanding of Aniston, filtered through gossip magazines and publicist-monitored interviews, were any more solid than what we see of her on screen.
The most reliable box-office draws for rom-coms in the past decade have been leading men coasting on their charm (Hugh Grant, Matthew McConaughey) rather than the leading women they're paired with, but you don't see anyone suggesting that every time you watch Grant suppress his obvious self-loathing and spit out another adorable British neuroticism, you should be thinking about him picking up a hooker in Hollywood.
Maybe Aniston's best understood as a blank-but-not-boring Rorschach test, an ink blot into which journalists and audiences can read what they choose. Which is something — you'd never see anyone bothering to do a close read of Meg Ryan.
[Photo: "Love Happens," Universal Pictures, 2009]