Janelle Monáe new track & behind the scenes vid, good gawd!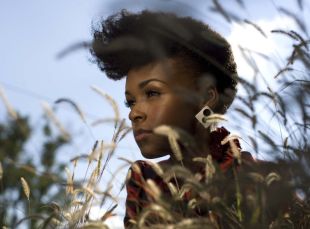 Posted by Brandon Kim on
The absurdly adorable Janelle Monáe is a Grammy nominated little nom nom, singer-songwriter and berserk performer. Look at her. She has her own creative alcove called The Wondaland Arts Society, part studio, part artist collective and Monáe's record label (along with Atlantic). Get a taste of their text: "We believe songs are spaceships. We believe music is the weapon of the future. We believe books are stars. We believe there are only three forms of music: good music, bad music and funk…. In this state, there is no food. We eat books and season them with wine and cotton candy. When you want the news, you read a comic book."
Monáe's debut record inspired by the 1927 film, Metropolis Suite I "The Chase" came out in 2007 and she is poised to follow up with Suite's II through IV from what I gather. Wondaland film projects and a graphic novel will accompany the record releases. Check Monáe and her crew out putting this track, "Come Alive," together.
Download the song here Come Alive (The War Of The Roses)
Sorry about the KIA stuff, but it's their gig. And hey, they're always near the top in green matters.