India, coming to a theater near you.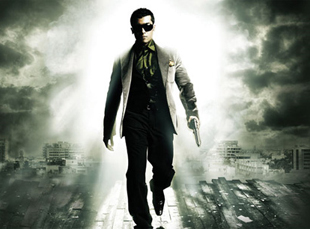 Posted by Vadim Rizov on
India's Reliance Entertainment doesn't just own a chunk of DreamWorks, they're also now the 25th-largest movie theater operator in the U.S. Welcome to the globalized future! In the last 18 months, Reliance has snapped up 18 cinemas across the country; they control 181 screens.
Not all of the theaters are devoted to Bollywood movies; some mix them in with Hollywood product, others have none at all. But the goal is a chain of Indian-oriented cinemas. The Indian American community numbers more than 2.5 million, and members have proven to be happy to pay $12 for a ticket and — more enticingly — entry to theaters that serve as social meeting-places, with cafes serving mango juice and wishing their customers a happy Diwali.
It's the social factor Reliance is banking on: there's actually a surprising number of major theater chains already showing Bollywood films (barely advertising, with in-the-know viewers bringing themselves), but — as Phil Zacheretti, who manages the day-to-day specifics of "Big Cinemas," the name of the theater chain subsidiaries, notes — "they don't serve samosas." (Honestly, I wouldn't trust any of the big chains to make a decent samosa anyway, though I'd love it if they did.)
If the future is knowing your niche, then Big's definitely on to something, particularly with specialized advertising designed to ruthlessly target the audience's needs rather than scattershot mass-market ads: Western Union, for example, for patrons who want to send money back home.
Arthouse crowds should take note — as foreign film distribution in the US goes through a rough patch, Big Cinemas could accidentally pick up the slack. Their Niles, IL branch is experimenting with showing Russian, Polish, Korean and Mongolian movies. "There's no reason we can't do the same thing for other [ethnic] groups," says Uday Kumar, who oversees Big Cinemas in North America.
Right now, for example, the Niles theater is showing "Old Partner", a documentary about an 80-something Korean farmer who wants to be buried with his 40-year-old ox. It may not sound like an easy sell, but it's the highest-grossing Korean independent film in history. Even if you're not in the target ethnic group for screenings like that, they'd be worth tracking down.
[Photo: "Aadhavan," Red Giant Movies, 2009, currently playing in a Big Cinema near you]