On "Cabin Fever 2" and where the hell horror film is headed next.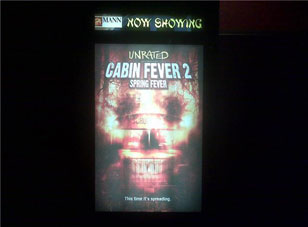 Posted by Stephen Saito on
Horror is in a strange place right now. In a genre currently steeped in remakes, "Paranormal Activity" has become the first original nail-biter to break through to the masses since "Saw," whose sixth installment showed its (and torture porn in general's) age by coming in second to "Activity" (in its third week) at the box office this weekend. Likewise, the film "Activity" has been most compared to, "The Blair Witch Project," recently celebrated its tenth anniversary, reminding everyone what a rare phenomenon it is to get spooked in a new way.
These were the things I was thinking about when I sat down to watch Ti West's "Cabin Fever 2: Spring Fever" at Los Angeles' Screamfest over the weekend, coincidentally the genre festival that premiered "Activity" in 2007. A sequel to the 2003 splatter flick that launched Eli Roth's career, "Cabin Fever 2" was supposed to do the same for West, a young director who's shown a knack for squeezing scares out of low-budget, highly inventive films like "Triggerman" and "The Roost," but who'd get his shot at a bigger budget with the Lionsgate-backed sequel. West got the money, but not final cut — he's since disowned the final product, which is set to go direct to DVD in February 2010.
Still, there's enough promise in the compromised "Cabin Fever 2," when paired with his first true masterwork "House of the Devil," to believe West might be horror's next great hope. (And, full disclosure, he does have a web series called "Dead and Lonely" premiering on IFC.com today.) What's clear from both films is that West's creativity and screenwriting ability should make him interesting even to non-genre movie fans — and horror is in dire need of more crossover hits.
Of course, true horror fans will get an extra kick out of "Cabin Fever 2" appearances from "The Last Winter"'s Larry Fessenden, "American Movie"'s Mark Borchardt and Judah Friedlander (sans trademark hat), but while there's a fair amount of gore, the film takes a threadbare plot (conveyed in an animated opening credits sequence) of a town whose water supply has been contaminated by the flesh-eating virus from the first film and turns it into the kind of fun that West determinedly depicts as not happening at the high school prom that becomes ground zero. Thanks to the tainted water, never has the stir of a punch bowl been so ominous.
West's gripes about the finished film have been that the producers amped up the gross-out moments for the sake of a laugh — oral sex from a girl with braces and a suspicious pustule on her lip, an overweight girl's burgeoning leprosy being mistaken for loss of virginity in a pool, and a male character's ejaculation of something other than semen — and while he isn't wrong, the scenarios are inherently terrifying.
Editing may have changed West's intentions, but they don't mask his devotion to dialogue and building multidimensional characters, so when there's a payoff, it doesn't feel like a cheap thrill. Like his brilliant use of The Fixx's "One Thing Leads to Another" in "House of the Devil," West dusts off Patrick Hernandez's "Born to Be Alive" and tells all you need to know about the teens at the soon-to-be infected high school in a montage of their preparation for prom.
"Cabin Fever 2" ends with a noticeably tacked-on ending — first, a live-action coda featuring two of the film's producers making cameos as strip club patrons, and then an animated bookend, which prompted one Screamfest audience member to ask producer Lauren Moews why there were different animators for the opening and closing sequences. Moews tellingly responded that opening credits animator Lawson Deming wasn't available when "we wanted to figure out what to do for the end." Presumably, West wasn't around either by that point. Moews added that original "Fever" director Roth had only seen a finished cut of the film a couple weeks ago, with his main comment being "Man, I want that soundtrack."
Although West's name came up sparingly during the Q&A, lead actor Noah Segan remarked that his first discussions with the director revolved around "Heathers" as far as influences were concerned, but also veered towards Sam Peckinpah — "We wanted to make something matter today using something traditional." And regardless of what happened with his first attempt at studio work, West appears to be well on his way to a fruitful career of doing just that. We just hope he has final cut for his next film, "The Haunting in Georgia," another sequel to a Lionsgate hit.