How to get horror fans to do your work for you.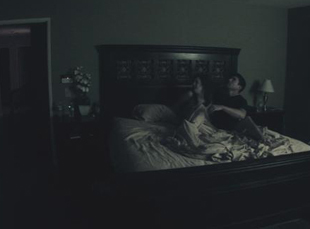 Posted by Vadim Rizov on
"Paranormal Activity" — the low-budget heir apparent to "The Blair Witch Project," allegedly terrifying audiences into fleeing midway in fear, as opposed to the usual disgust — has won itself a nationwide release this weekend.
Paramount's marketing campaign had fanboys clicking on a petition to "demand" the movie be shown in their city; when it hit a million people, the studio announced that, thanks to those fans, "Paranormal Activity" would go wide. The triumph of the little people! Except not really: as The Playlist reports, Paramount's been telling local theater managers that the film was headed their way long before the PR push of the petition reaching a million supporters.
It should surprise no one that Paramount, after spending the summer putting out "Star Trek" and "Transformers: Revenge of the Fallen," wouldn't allow their release strategy to rest on the whims of an online petition. What is brilliant was the way they cut back on marketing costs by getting the target horror fanbase to do the word-of-mouth promotion themselves. Horror devotees mobilize themselves in a way more powerful than any marketing campaign — any film that promises a new scare, particularly one with the air of being too challenging, too out of the box for the studio that paid for it to know what to do with it, will gain a loyal fanbase instantly.
That's likely the reason it took a $15,000 movie two years to get released. So little to make, so relatively little to acquire — it seems the least risky potential profits are, for studios, the most frightening thing of all. After all, this dithering over a genuine DIY effort comes from the same company that spent so much time faking "Cloverfield"'s deliberately awful "documentary" look. Paramount did an end-run around the problem with an ingenious gimmick that used the "studios just don't understand" sentiment to its film's advantage, but it still seems like another case of a company being suspicious of anything that didn't cost enough to make. Now is no time to get hung up over status matters like that — particularly when your film's managed to make $7.1 million at the box office this past weekend.
[Photo: "Paranormal Activity," Paramount, 2009]