Hopewell "Island" Video: 1971 Japanese art film, Nazi's, Brooklyn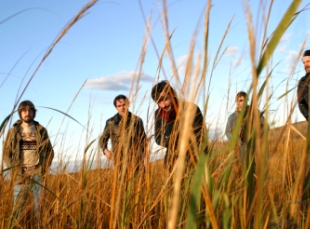 Posted by Brandon Kim on
Director Art Boonparn's video for New York band, Hopewell, has three things that get me real fired up. A tough psych jam, Nazi's and Brooklyn. He pieced together a visual interpretation of the song, "Island" using archival war footage, found sound, and his own had held super 8 footage around Brooklyn. A pleasing recipe, if excessively gritty.
(Hopewell. Photo by Alexandra Marvar)
The video was inspired by a truly blown out Japanese counter culture flick called "Throw Away Your Books, Rally in the Streets" (give or take, depending on your translation) by Shuji Terayama (another film of his is 1971's "Emperor Tomato Ketchup"). Terayama was one of those mavericks who witnessed the extinction of an entire generation of his people, first at the direction of narrow-minded Japanese Imperialists, and then by relentless narrow-minded American hegemonists. Fire bombing wiped his home town and it's inhabitants off the face of the Earth along with most of Japan's cities in 1945 when he was a child. I would think that would turn anyone into a rebel, but Terayama stands out as an artist who was far from narrow-minded.
Check out the dope Hopewell video, "Island." Then dig some of Terayama's film that got under Boonparn's skin.
Download Hopewell's "Island."
Hopewell "Island" from Painless Surgery on Vimeo.