Harmony Korine's found footage film.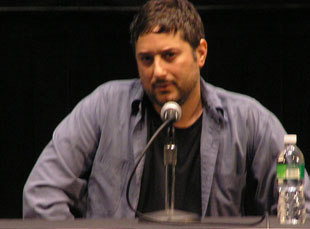 Posted by Vadim Rizov on
Whatever you think of art film's designated provocateur, it's hard to imagine anyone less famous than Harmony Korine getting a movie into major festivals that was conceived of only four months before, shot in two weeks, and consists mainly of dudes in old-person masks fellating tree branches, drinking wine bottles and — yes, indeed — humping trash. But such is "Trash Humpers," 74 plotless minutes that gain value from a dedication to the shoddiest of VHS aesthetics; the film was edited on anachronistic VCRs, and it shows in good, nostalgic ways. It's oddly painless, but provocative in a too easy way: Ugliness is truth, and truth ugliness.
Korine was calm and unruffled when facing the press after the screening, and they in turn asked only respectful questions. He addressed his inspirations in order. "With this movie, what happened was I grew up really close to — and live now close to — where we filmed," Korine explained. "My wife bought this little black dog and made me walk it two or three times a day, so I would walk it in these back alleyways. Generally I like to walk at night, and I remember as a kid I spent most of life in abandoned parking lots and back alleyways and under bridges, and they now are just littered with garbage. Sometimes when I'd walk through these alleyways they would resemble humans, the way they would be laying with these things blowing over them. I don't know what happened, I just started imagining what it'd be like to hump them. At the same time, when I was a kid there used to be a group of elderly guys who would sometimes peep through windows in the neighborhood. I'd always look through my window and catch them looking at the girl next door in this yellow house. It was a common thing."
As for the VHS: "Sometimes when I would travel to movies, people would give me films or hand me tapes or a bird's nest or something, and someone came up to me and handed me a video tape and told me to watch it, that they had found it in a thrift store. Usually I throw the stuff away because I'm scared to look at it, but this one I kept. A couple of months later my wife was there with her friend and they said to put a movie on, so as a joke I put this tape in. And what I saw was mainly these kids driving around, punching each other, playing tuba, screaming at each other, just things that were kind of silly and mundane, but they both started yelling at me to take it off and I said 'Why?' And they said, 'because someone's going to get murdered.' It was a strange reaction for them to have, but then I thought it was an interesting idea, to make an idea that was like a VHS tape, that was like something that was found."
Those were the money quotes, and they were genuinely entertaining: the rest of the conference was less so, with Korine giving many variants on the vague, art-school-y statement "They only want to take evil and make it somewhat beautiful or transcendent." He repeatedly said he wasn't sure if "Trash Humpers" even qualifies as a movie. He meant it in a good way, because conventional movies are boring. I'm not so sure.
[Photo: Korine at press conference. Photo courtesy of Jason Shawhan.]