"Slumdog Millionaire" might mean a grittier Bollywood.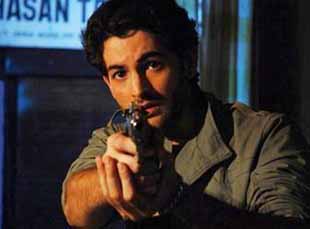 Posted by Vadim Rizov on
Ready or not, Bollywood, here comes the sex, drugs and violence. At the Guardian, Nirpal Dhaliwal gives a qualified thumbs-up to "Ride the Wave Johnny," a new Mumbai-based melodrama about a boy who…okay, I can't paraphrase this:
The Johnny of the movie is a coffee-boy who also delivers cocaine for his gangster boss, Chutta, while nursing dreams of escaping to Dubai. Having seen his parents murdered in his rural village, he eeks [sic] out a living in the big city under the wing of Chutta's lover, an obese Muslim transvestite… Johnny's tale is interwoven with a moving love triangle involving a corrupt policeman, Chiple, his beautiful younger wife, Divya, and her young lover, Parvez. Johnny helps Parvez break into a safe house Chiple uses for whoring and stashing the proceeds of his bent activities, which include assassinating local businessmen.
Dhaliwal isn't crazy about the anemic quasi-sex scenes or the cocaine-and-models subplot, but still thinks the film is evidence that "Indian film-makers are mining the streets for stories rather than repeating the same middle-class Bollywood cliches. By no means a masterpiece, it is a sign of much better things to come."
But is anyone besides critics going to be interested in this new breed of grittier Bollywood movies? There's no evidence that Bollywood audiences are looking for a change of pace beyond the still-dominant escapist blockbusters, or at least not one as dramatic as Dhaliwal seems to hope. Not that he can be blamed for wanting Hindi cinema to leverage "Slumdog Millionaire"'s success to reach a more international audience.
Mumbai, he thinks, "has the potential to replace New York as the globalised world's iconic cityscape." Certainly New York hasn't been cinematic shorthand for The City for a while now — a few years ago, I thought its successor might be Dubai, the obscenely wealthy United Arab Emirates playground Michael Winterbottom brilliantly used as The Future in "Code 46."
Mumbai is a city that has the potential, on every block, to rub your face in the past and future simultaneously. But while the Bollywood formula has proven capable of chewing up and spitting back out any subject matter into two-and-a-half-hours with four musical numbers, foregrounding social critique is a whole other matter. And if that's what it'll take to make Mumbai cinema's the new global landscape, there's still far to go.
[Photo: "Ride the Wave Johnny," Mediaent, 2009]