"Godfather" vodka, for the cinephile drunk.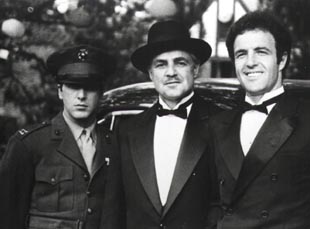 Posted by Vadim Rizov on
The latest addition to the list of movie tie-ins you never knew you wanted is "The Godfather" Italian Organic Vodka, which American vodka consumers — $15 million strong a year — will have the chance to imbibe come April 2010.
At last, the legions of Americans who insist "The Godfather" is the greatest movie ever made, no contest, can now drink themselves into a stupor in franchise-approved fashion, along with "Apprentice" fans who knock back Trump Vodka, "Ghostbusters" lovers who sip Dan Aykroyd's Crystal Head Vodka and — way down at the bottom of the list — Danny DeVito's Premium Limoncello, for admirers of… "Taxi"?
Presumably, people buy this stuff for the ironic kitsch factor — in which case Mel Gibson missed a trick by not manufacturing his own "Open Container Tequila." But why vodka? There's drinking in "The Godfather," but no particular fixation on that liquor — there's plenty of wine, but Coppola's got that covered. Perhaps "Godfather"-branded cannoli would be less forced? Or "Godfather" orange juice, since every time someone's about to die, oranges tend to be involved. Tony Soprano, too, bought some orange juice before getting shot — so I suppose the connotations would be on the morbid. But at least they'd also be funny, and not such an open cash-grab.
[Photo: "The Godfather," Paramount Pictures, 1972]