Ghosts of Christmas movie "traditions."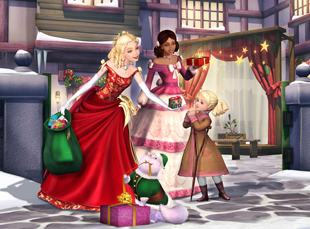 Posted by Vadim Rizov on
"A Christmas Carol" arrives next Friday, and I'm actually a little excited, being a fan of the perversity of "Beowulf," Robert Zemeckis' last motion-capture experiment. But by now we're as overstocked on cinematic Scrooges as we are on Jane Eyre adaptations. No matter, Disney's betting $175 million on the film itself, and lord knows how much on the marketing.
The Dickens classic has been made into movies so many times that the adaptations have their own Wikipedia entry. Notable Scrooges include Bill Murray, Scrooge McDuck, Michael Caine, Barbie, Fred on an episode of "Sanford & Son," Henry Winkler and, of course, Fred Flintstone. Earlier this very year, Matthew McConaughey was visited by "Ghosts of Girlfriends Past" (which really suggests how much people fear and loathe Valentine's Day). So yes, there are more than enough Scrooges for everyone.
But, and here's where Disney is crazy like an animated fox, none of the widely beloved adaptations are less than 30 years old (unless "The Muppet Christmas Carol" has a cult following I don't know about). There are plenty of direct-to-video cheapies like 2001's "Christmas Carol: The Movie" ("the"? As in the one and only?), but nothing lasting, and in short-attention-span America, that means an opportunity.
As Brooks Barnes points out in the New York Times, Disney's going all-in because they hope the movie can became "an annuity." Translation: they could re-release it annually, the way Warner Bros. makes a small mint from putting out "The Polar Express" in IMAX every holiday season and eventually make it a TV staple.
It never occurred to me before that the makers of, say, "Christmas with the Kranks" were aiming for seasonal immortality, but now it all makes sense. Christmas is the eternal cash grab, whereby it somehow becomes an obligation to be dragged by your kids to "The Santa Clause 2" because it's a sequel to a "holiday classic." This new "A Christmas Carol" is just laying their cards on the table. So consider yourself warned: if you have small children and end up watching Jim Carrey's Scrooge for the next decade repeatedly, now you know it was by design, worming itself into the most magical special time of year. Bah, humbug indeed.
[Photo: "Barbie in A Christmas Carol," Universal Studios Home Entertainment, 2008. The cat's name is "Chuzzlewit."]