When gay activists and conservative pundits agree.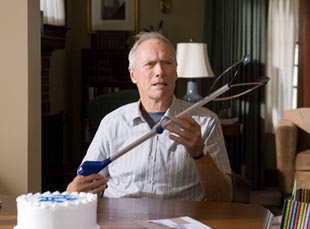 Posted by Vadim Rizov on
Buried deep in Patrick Range McDonald's absorbing profile of agent Howard Bragman, there's a sentence that took me off guard. Bragman specializes in helping gay celebrities craft coming-out strategies; he's got "a famous musician who's still closeted from the public" due next year, he's become an expert in controversy-controlling media strategies and combating the homophobia of casting directors — many of whom are themselves are gay but don't think viewers are ready for openly gay leads. And there's the kicker: "Tinseltown has long been criticized as an isolated subculture that holds itself in excessively high regard, viewing everyday Americans as behind the times. There is every possibility that Hollywood is projecting its old biases about America, without learning how the public really feels."
McDonald's talking about the hypocrisy of a system where gay industry workers deny gay actors work for fear of other people's homophobia. As he notes, a 2007 poll showed 72% of Americans would feel the same about an athlete if he came out, and that same 72% believed other people would be less tolerant. It's the same conclusion drawn by various talking-points conservatives who chalked up the success of "Gran Torino" to a repudiation of Hollywood formulas in favor of an aggressive conservative mandate, or to prove the Polanski affair is the peak of Hollywood's love of pedophiles: Hollywood doesn't get it, and now is paying for it.
Conservatives think Hollywood is suffering because its been trampling all over the little people; industry observers (implicitly liberal) think — in McDonald's formulation — it's because they underestimate how progressive the public is. The truth is that right now Hollywood's in a paranoid enough place that Universal can fire the chairmen responsible for its two most profitable years because of one bad summer. There's complete panic, which is why everyone feels entitled to offer theories on how to reform/save the industry. It's open season. Got an explanation? It's probably no less plausible than anyone else's.
[Photo: "Gran Torino," Warner Bros, 2008]