The future's so bright, it deserves a letter grade.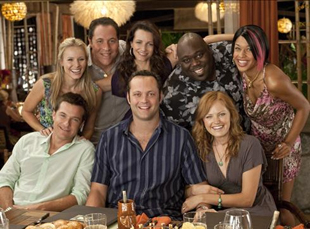 Posted by Vadim Rizov on
It may be based in Vegas, but market research firm CinemaScore is one of the most feared organizations in Hollywood. Not feared in the style of a Harvey Weinstein or Nikki Finke — feared because the company's proven frighteningly good at predicting accurate box-office grosses.
Over at his "Big Picture" blog, Patrick Goldstein profiles Ed Mintz, the head of CinemaScore. He works like this: Opening night audiences are asked a few simple questions about what they just saw, like what letter grade they'd give it, whether they'd rent or buy the DVD, and why they showed up ("Was it the leading actor or actress? The film genre? The director? Or subject matter?"). Mintz then crunches the numbers, taking into account genre, rating, target demographic, comparable past films' performance, and arrives at a prediction. He called "Transformers" domestic gross down to the million, and was off on "Brüno"'s final gross by three. He's very, very good at what he does.
Since CinemaScore polls audiences opening night, it can only predict what's going to happen once all the production struggles are over and the marketing is in place, so its most useful application seems to be alerting rival studios that a competitor is about to flail and they should spend more money on a competing project. But studios are obsessed with it, if only to watch their projects' financial success/failure confirmed by real live audiences. If Mintz could come up with a way to predict letter grades (and hence grosses) during, say, the development stage, when the movie could be changed, he'd be richer than Bill Gates.
Mostly, though, Mintz represents the latest indicator of how studios second-guess themselves into an infinite cycle of test-screenings and ad campaigns designed to push any movie towards its infallible projected gross, and then firing studio heads when things don't run as projected. You have to wonder if they wouldn't be better off just hiring random swaths of "ordinary film goers" to run things by committee for two years or so; then, after every pitch and meeting, Mintz could just poll them and see how things turned out.
Mintz is so good at what he does he makes a joke out of the long series of creative condoms accompanying every Hollywood film — a few letter grades and some slowly-acquired know-how and you can more accurately predict in one weekend what'll happen than in years of planning and strategy. Witness: Mintz is predicting "Couples Retreat"'s ultimate success to the tune of $133 million because it has no competition as a comedy and audiences give it a "B."
That explanation makes more sense than the one offered by Nikki Finke — according to a studio exec e-mail she got, "Movies always do business after the studio heads get fired." I didn't know rank and file consumers based their viewing choices around corporate politics. Yeah, I'll stick with Mintz.