Fix, Olivia Wilde, Tao Ruspoli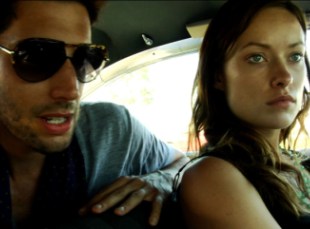 Posted by Brandon Kim on
You may be aware by now of actress Olivia Wilde. I guess she's been in every glossy guy spread from Maxim to GQ in a bathing suit. She's also made her mark on TV in House M.D., and unfortunately the show beloved by the Bush twins, The OC. But she's not all vapid teen drama, in fact she came to my attention with "Tron Legacy" where we she will play a "loyal confidant to Kevin Flynn." Tron 2.0, as it was formerly called, will be first rate cinema spectacle when it's released in 2010 and should cement Wilde as a real star. You know the kind who reads, campaigns for progressive politics and is genuinely interesting.
Her parents, Andrew and Leslie Cockburn, (Olivia took the show name "Wilde" from Oscar) are hotshot investigative journalists. "'Olivia was exposed to a lot of very clever people when she was little," [Leslie Cockburn told GQ]. She recalls Olivia eavesdropping one night on a conversation between Richard Holbrooke and Mick Jagger–until the Rolling Stone turned around and shooed Olivia to bed. "How many girls were told to go to bed by Mick Jagger?"
Olivia added "I'd fall asleep listening long before I understood what they were talking about," she says. "I appreciated the constant excitement, the murmur of all these engaged conversations. Christopher Hitchens used to babysit me when I was young" [GQ]
One can only imagine the myriad effects a radical contrarian like Christopher Hitchens could have upon the formative years of a young girl. I bet she likes a good argument and a great glass of wine. But enough speculation, Olivia is in a film by Tao Ruspoli called "Fix" that opens November 20th that has piqued my interest. It's based on a true story about Ruspoli's brother and how after a drug conviction he was given the choice of rehab or 3 years in prison. The trick was that he had to show up before a limited deadline and pay a huge deposit to the rehab clinic to be admitted.
The film (like the real event) is a race across LA by "documentary filmmakers Bella and Milo" to get Milo's blown out brother, Leo, from jail to rehab before the deadline. They get hampered by strange characters while also trying to find the money to admit him – perhaps a lucrative but ironic drug deal will prove the only way to make it happen.
"Fix" features music by Dead Prez , Ima Robot, Simon Dawes, Beautiful Girls, and Nico Stai. The handsome director and Founder of The Los Angeles Filmmakers' Cooperative, Tao Ruspoli, is married to Olivia Wilde in the real world, sorry you drooling dreamers.