Five obnoxious Troy Duffy quotes.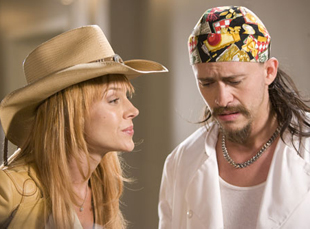 Posted by Vadim Rizov on
This week saw the, er, proud return of Troy Duffy, writer/director of 1999's Boston-set cult favorite "The Boondock Saints," about the stylish side of vigilante violence, and its new sequel "Boondock Saints II," which arrives in theaters today. Duffy's also the resentful subject of 2003's "Overnight," a fascinating 2003 documentary-as-showbiz-cautionary-tale that showcases how he's not one of those people to whom modesty and introspection come naturally.
In the process of making "Boondock," Duffy managed to alienate a lot of people by being boorish, self-aggrandizing and effectively worshiping at the altar of his own ego. "Overnight" was beyond biased in depicting these things, but co-directors Tony Montana and Brian Mark Smith show you exactly why they went that route: they have Duffy on camera swearing he's not going to pay them what he originally promised. Ten years later, Duffy's out on the press circuit, and the one message coming through loud and clear in his interviews is that the man's learned nothing in the interim about keeping his mouth shut. Here are five choice cuts from recent Q&As:
1. On the question of whether or not the brothers MacManus' actions promote vigilante gunplay: "You like 'em, great, you don't, go f*ck yourself. That's why when people say, 'It seems to condone vigilantism.' Well, to you. There's a whole bunch of other people that feel differently about it. There's people that just look at this as a complete f*ckin' fantasy RIDE, you know?" —ComingSoon.
This is how to have your cake and scarf it down obnoxiously too. His movies don't condone vigilantism: they're just fantasies about how awesome it is, without any real-world feelings attached. And he's got an army to support him, so clearly you are wrong if you disagree.
2. "Smoking is cool, and everyone knows it." —Movieline.
This would be funnier if I thought Duffy was kidding. But he's not a kidder.
3. "This movie was effectively abandoned by Hollywood. Had it been given a chance, it would've been a gigantic fucking hit. That is no longer a matter of opinion." —IFC.
What Duffy means is that the movie probably made between $50-60 million on DVD in the US (depending on who you ask) and more abroad. What he's actually saying is that his movie is objectively "Pulp Fiction," and it's not.
4. "This movie was virtually abandoned, and the kids found it. They made it their own thing, and they didn't really give a sh*t what critics said. And they started protecting the film on the Internet. Every time you see a bad comment about Boondock, the next ten comments are Boondock fans calling that guy a douchebag." —Cinematical.
Note the self-righteousness of "the kids" (a phrase that comes up a lot in Duffy interviews) — very The Who in 1965, when the kids were alright, and they found something that, like, spoke to them man, and Poindexter over there could just suck it. Also, it's a good thing that internet comment boards are full of people calling others douchebags. Believe.
5. "Ultimately, I think females are just sick and tired of the 'let's share,' sensitive male the movies have been feeding them." —Philadelphia Daily News. This is common conservative meme (see the indelible Yervand Kocher on indie film: "Movies lost their masculinity and femininity and became comfortably metrosexual"). At the end of the day, Duffy's quite comfortable with saying his movie's just for laughs while playing to the most reactionary impulses of his fanbase by proving — on film — that your girlfriend really does love watching football with your friends as much as you do and, given her druthers, is all about watching manly men shoot guns and eat nachos. And also we're taking back the culture from the wusses!
[Photo: "The Boondock Saints II: All Saints Day," Stage 6 Films, 2009]