What we learned from the "Fantastic Mr. Fox" junket.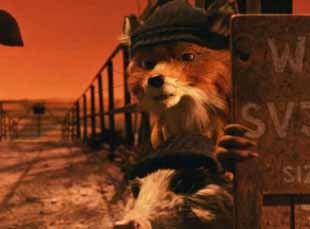 Posted by Vadim Rizov on
Wes Anderson's "Fantastic Mr. Fox" had its world premiere at the London Film Festival this week. A boatload of reporters were there — 250 print, 35 broadcast/online — some on 20th Century Fox's dime. After wading through the many reports, here's what I've learned:
The London Film Festival is becoming a bigger deal.
Its budget has been increased by $3 million from last year, which means it has the power to fly in more journalists for such events, which means more media coverage, which means more people to take the festival seriously as a launching pad for European advertising and word-of-mouth. Of course…
Journalists hate anyone who gets to travel for free.
A lot of the American attendees at the junket were bloggers, causing Defamer's Richard Rushfield to sneer "In the crowded media landscape, it's not easy to create buzz for a new film. It takes years of careful positioning, delicate marketing skills, a well-cultivated grassroots network… Or you can just buy a bunch of bloggers trips to London." But eventually he has to sound the usually "death of journalism" knell, concluding "For all but those few working for the dwindling number of publications with a travel budget, the thought of getting your employer to cover your trip to Tahiti is absurd. But nonetheless, that same employer will expect their reporters to provide them with the interview with Vince Vaughn that can only be had in Tahiti. So what's a poor schlub to do but swallow his doubts, and go to Tahiti."
Patrick Goldstein is scandalized no one asked Anderson about an article where his DP was quoted as calling him a "sociopath." "I have to admit that if I were interviewing him today, I'd be bugging him for some plausible answers," Goldstein writes.
Fox thinks Wes Anderson is finally ready to make money.
The most an Anderson movie's made in the US is $52.4 million for "The Royal Tenenbaums" in 2001.His films attract loyal cults on DVD, but their theatrical performance is increasingly wan. Given how often Anderson's aesthetic is accused of being juvenile, it seems that making a stop-motion "family" movie (without, apparently, compromising his tics one bit) is enough of a conciliation for Fox to invest in this being a hit.
A few of the early reviews: Screen Daily ("laconic, terribly old-fashioned but fantastically fun"); Variety (" its retro charms will likely appeal more strongly to grown-ups than to moppets"); Hollywood Reporter ("a visual delight")
[Photo: "Fantastic Mr. Fox," Twentieth Century-Fox Film Corporation, 2009]