Fantastic Fest: Uwe Boll, Auteur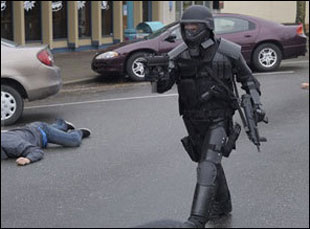 Posted by Matt Singer on
Two things spread quickly at film festivals: upper respiratory tract infections and buzz. And the buzz spreading around Fantastic Fest last week was that the impossible had happened: that Uwe Boll, the infamous director of notoriously (and, at times, enjoyably) terrible films like "Alone in the Dark" and "BloodRayne," had made a good movie. Film School Rejects declared Boll's new film "Rampage" "sick, violent, and fun"; /Film called it "not just good in comparison to the rest of his filmography, but a good movie in its own right."
Usually Boll's movies aren't just bad, they're splendidly bad. They're lazily plotted, haphazardly shot and confusingly edited, and yet, somehow, in the alchemical confluence of all that badness they take on a certain transcendent magic. Many of his past efforts were financed through a now-defunct German tax shelter that, if I understand it correctly, only required independent film investors to pay taxes if their films turned a profit, providing a financial incentive for failure. Nevertheless, the buzz was quite insistent: "Rampage" was good. Lured by curiosity to the film's final Fantastic Fest screening, I discovered that while "Rampage" is far more competently made than Boll's worst films (or best, depending on your point of view), it's also stripped of much of those earlier films' charm and it tells a story that, while lucid (if ludicrous), is completely revolting. To put it another way, "Rampage" announces that Boll isn't a terrible filmmaker, just a terrible misanthrope who hates humanity and wants nothing more than to see it destroyed.
"Rampage" is about a sullen young man named Bill (Brendan Fletcher) who's grown tired of his coddling parents, his anarchist best friend and the guy who makes his macchiato in the morning with too little foam. Convinced by the mainstream media of the world's impending doom at the hands of war, overpopulation and environmental decay, Bill, a Travis Bickle with no Iris to focus his madness upon, straps on a homemade suit of armor and goes on a killing spree in his hometown, taking revenge on the people who've crossed him (let that be a lesson in coffee making, baristas), as well as any random bystanders he happens upon.
There are times when Boll seems to be critiquing the hypocrisy of killing someone in order to make a political point, an idea with more than a little relevance in our modern world. And only the staunchest of right-wingers would disagree that our civilization could very well consume itself into oblivion. But is genocide the best solution? "Rampage" seems to argue that it is. By replaying audio clips that recite our society's excesses and misplaced values (the figure of 70 million new people brought into an already crowded world every year comes up quite a bit) and by filming Bill's mayhem with a fetishistic macho zeal, Boll essentially argues that anyone who disagrees with his viewpoint is unworthy of the gift of life. You have to wonder if Boll, who's been an enormous punching bag for much of his directorial career and has even taken to physically fighting his critics on occasion (including at Fantastic Fest), has come to genuinely despise opposing viewpoints. "Rampage" is a blast of pure venom at the viewer, a "Funny Games"-style provocation from a filmmaker who might not necessarily want to challenge his audience or make them question their complicity in the violence that takes place onscreen, but wastes no opportunity to show how much he simply and utterly hates them.