Fantastic Fest: And the Hits Keep Coming…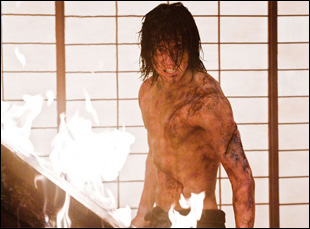 Posted by Stephen Saito on
"'Ninja Assassin 2' will be in 3D with Sprayarama," director James McTeigue joked before the premiere of the first and so far only "Ninja Assassin" at the Alamo Drafthouse on Tuesday. And there were copious amounts of blood sputtered in the film that followed, a gory but too often creatively bloodless affair that stars Korean pop star Rain as Raizo, a warrior trained from birth in the ninja way before turning against his clan after the death of a female colleague.
How you'll feel about "Ninja Assassin" will depend on your inherent interest in the masked men (and in this equal opportunity film, women) — throwing stars and bone-crushing punches can atone for cheesy dialogue, but McTeigue makes the curious decision to shoot most of the action in the dark, and the performances are half-hearted. (While a physical marvel, Rain is hamstrung by having to speak in English, though fans of the genre will be thrilled to see '80s icon Sho Kosugi come out of semi-retirement to play his mentor.)
Not surprisingly, most of the post-screening Q&A, conducted by Ain't It Cool's Harry Knowles, revolved around the red stuff — McTeigue took delight in telling the crowd that he thought "maybe I got [the MPAA] on happy hour Friday." While he viewed his last film "V for Vendetta" as "150 minutes of talking with three set pieces," McTeigue aimed to make a straightforward action movie with "Ninja" and consulted heavily on a style where the blood would spurt in "a cross between anime and gameplay," allowing Raizo to pass through the bloodshed after executing one of his victims.
While the Wachowski brothers are once again on board as producers, it's clear that McTeigue is his own man with "Ninja." He said his next film will likely be a thriller about the "fictionalized last five days of Edgar Allen Poe," with a serial killer inspired by the horror author's short stories in a way the director compared to "Se7en." "So more killing," McTeigue surmised, which satisfied the crowd.
It'd be interesting to see what "Mandrill" director Ernesto Diaz Espinoza and star Marko Zaror would do if they had half the budget of "Ninja Assassin," but even with limited resources, their latest film is crammed with the kind of thrills that even the best CG can't provide. "Mandrill" marked a triumphant return for the Chilean duo, who took Fantastic Fest by storm in 2007 with "Mirageman," the tale of an everyday crimefighter. "Mirageman" has the unfortunate burden of being currently remade into a 3D English film called "Defender," which coincides with the Woody Harrelson film "Defendor" about…you guessed it. (Fest attendees got a glimpse of a show reel.) It may at least prove an auspicious English-language debut for Zaror, who's reprising his role for the American version and is an international action star waiting to happen.
Espinoza packs as much creativity into his action sequences as the square-jawed Zaror packs power into his punches — their latest film together, about a suave secret agent, tirelessly aims to please. Although the duo make no secret of their influences — the closing credits list every actor and director involved in the James Bond franchise in the special thanks section — "Mandrill" is a one-of-a-kind spy tale, skipping the backstory of how its title character became a trained killer in favor of showing how he became a ladykiller, taking full advantage of Zaror's matinee idol looks for considerable comic effect by flashing back to the days when an unsure young Mandrill took lessons from his uncle in the ways of love. Not surprisingly, Zaror received lots of love from the Fantastic Fest jury, who gave him the best actor prize on Monday.