Desplechin vs. Anderson: "Fantastic" family men.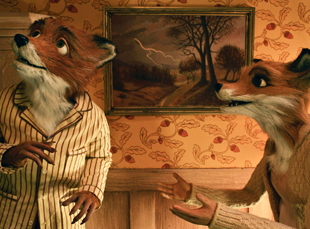 Posted by Vadim Rizov on
Wes Anderson's "Fantastic Mr. Fox" (which is, yes, fantastic) begins its platform release domestically two Fridays from now, but it's already out in the UK — complete with a "Fantastic Mr. Fox Happy Meal" — and the publicity mill is already grinding. One of the cooler interviews Anderson's done is with French director Arnaud Desplechin (recently ordained the future of cinema by Alain Resnais at a New York Film Festival press conference) — though, per Interview magazine's usual form, it's more of a curious dialogue between equals than a straight-up interview. They talk about Proust, argue about which directors influence them and scratch each other's backs a little. Desplechin tells a really morbid Hitchcock anecdote.
What no one mentions the entire time is the thematic overlap Anderson and Desplechin share, the entire reason someone might've sicced them on each other in the first place. The tagline of "The Royal Tenenbaums" was "Family isn't a word…It's a sentence," which would work just as well for Desplechin's famlial dramas, 2004's "Kings And Queen" and 2008's "A Christmas Tale." Desplechin doesn't really focus on the failing father figure to the same extent Anderson repeatedly does, but both deal with families who — if not for blood ties — would've murdered each other long ago.
They use different tools to get there: Anderson uses overt stylization, (sometimes hermetic) tableaux frames and, more often than not, a sugary veil concealing deep wells of emotion. Desplechin prefers handheld camera, willful tonal abrasion and almost comical levels of overt hostility. In 1991's "La Vie Des Morts," one of the daughters announces at the breakfast table, to her mom's face, that everyone always hates their mother; in 2008, son Mathieu Amalric calls mom Catherine Denueve an anti-Semite, and she calls him her little Jew. And so on.
They almost hint at this commonality when Anderson admits his "characters from one movie could walk into another one of my movies and it would make sense, whereas people from other peoples' movies would probably feel a bit uncomfortable there." Desplechin says that's rare, and Anderson counters, "Your movies have the same thing, except they're more realistic, so it becomes more subtle." "I wouldn't say that," Desplechin demurs. He's not wrong: one just seems more "realistic" than the other because Desplechin's performers get volatile on very little notice and the camera isn't pinned down. Still, his films operate on their own, equally hyper-stylized logic. (That's to say, no, there aren't any families that are really that constantly vicious to each other to their faces, like a comic "Long Day's Journey Into Night.") It's a decent interview, but I wish someone had told them to talk about their relationships to and obsession with family. Then again, maybe there's a good reason neither one of them brought it up: for both of them, it's one of the ultimate sources of cinematic pain.
[Photo: "Fantastic Mr. Fox," 20th Century Fox, 2009.]