Chuck Prophet's Top movies of all time + rock and roll.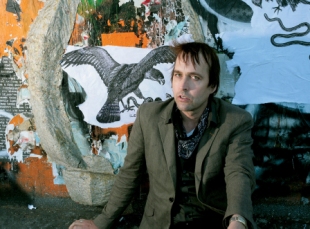 Posted by Brandon Kim on
I asked Chuck Prophet if he could list a few of his favorite films for me while he's finishing up a documentary about the ill timed (swine flu) trip to Mexico he took to make a record.
Read this bad ass list he wrote up and if you need a breather, give a listen to this jam, "Sonny Liston's Blues," off his record ¡Let Freedom Ring! – due out Oct. 27.
It's gonna take an aspirin!

"Sonny Liston's Blues," by Chuck Prophet.
These are movies that I've lived with and return to again and again. I've included a couple of small movies so good that if you're like me, you can't help but wonder, "Why aren't there more movies like this?" I have to root for the underdog. That's how I'm wired.

And remember, in the immortal words of Ray Charles:
"It's easier to bone the President's wife than to get a movie made."

Crimes and Misdemeanors (1989)

Cliff Stern: "A strange man… defecated on my sister…"

Wendy Stern: [pause] "… why?"

It's really two movies: One about a struggling documentary filmmaker (Woody Allen) trapped in an unhappy marriage and in love with a woman who doesn't love him back.
And in the other, a classic noir story where Martin Landau is a successful doctor who has his mistress (Anjelica Huston) murdered. And gets away with it.

Some of Woody Allen's later movies have a rather tossed off feel. But this movie is like a can of concentrated orange juice. Concentrated. You know, like before you add the water? It's almost three movies in one. Thick. Dense. Bullet-proof.

At the end of the film Allen's character, Cliff, listens to Martin Landau's character pitch him an idea for a movie. Cliff tells him that in order to make a good film there needs to be some redemption in the story. It's an achingly sad moment when Landau says to Allen, "You watch too many movies, this is about real life." Just one of the many moments that stack up to make the torn half of the Admit One worth having.

And remember: "If it bends, it's funny. If it breaks, it isn't."

I'm down for any Woody Allen. I'll see anything he does. I'm sure people will be quick to disagree but I think Woody is incapable of making a bad movie. The same way Bob Dylan is incapable of being uninteresting.

All The President's Men (1976)

"Print that baby!"

At one time I wanted to be a journalist. Took a few college classes before I got frustrated looking for parking and starting cutting class and going to matinees. Seeing this movie as a child with my mother probably had as much to do with my romantic notion of journalism as anything. Just the roar of all those typewriters rat-tat-tatting away in unison at the Washington Post hooked me. Or maybe it was the glee in hearing Jason Robards growl: "Where's the fucking story?" Every scene is a diamond. It's brief, but the Lindsay Ann Crouse (David Mamet's first wife) scene where she has maybe three lines, is a movie unto itself.

It's fascinating to look back at this now as a kind of period piece. As news papers are folding and Investigative reporting is dying all around us. Syndicated articles are passed around like cheap whores and papers can't afford to keep on a paid staff to do any serious reporting. One more reminder of the apocalypse, now we live in a time where opinion and entertainment rule over truth.

D Tour (2008)

I was really knocked out by this informative rock documentary directed by Jim Granato about Rogue Wave drummer Pat Spurgeon who was born with one kidney that's failing and needs another to keep living.

I learned a lot. Like being on the organ recipient list for a new kidney is no cakewalk. And being in a touring band while on dialysis is no day at the beach. It's involved. I won't tell you how this story ends but it's a heart wrenching journey for sure. If you haven't already, you might want to consider checking that box on your driver's license.

Walking out after watching it, I thought about all the useful things I've learned watching movies:

1) Eric Stoltz picking a safe in "Killing Zoe." You've got to have the right tools. You've got to have a talent for it. But it can be done if you know what you're doing, apparently.

2) The proper way to spy on someone and get it on tape. Gene Hackmen following Frederick Forest and Cindy William's conversation in the middle of San Francisco's Union Square with a shotgun microphone in "The Conversation."

3) There's a right and a wrong way to talk to a girl after she catches you tricking her in to touching your penis by burying it like a prize in a popcorn box. Just ask Mickey Rourke! ("see Diner"). If you know what you're doing she won't even get mad.

4) The lottery-like impossible odds of transcending your background by playing b-ball ("Hoop Dreams").

Back to "D-Tour." Warning: there are enough pretty, open acoustic guitar chords and sweet harmonies courtesy of Ben Gibbard (and a host of celebrated indie rock semi-royalty). Enough of that to send you into a diabetic seizure. So, if you're hypoglycemic, you might want to enter at your own risk.

Chuck Berry Hail! Hail! Rock 'n' Roll (1987)

Chuck Berry: "Don't touch my amp!"

Keith Richards and a bevy of special guests get paraded out for Chuck's 60 Birthday concert. But make no mistake: it's Chuck's show all the way. It's the rehearsals where the real action is. And we get to watch. "Don't touch my amp!" And take a Chuck guided through St. Louis. Chuck Berry is a complicated dude. This movie is endlessly fascinating. Rock and roll is Rock and Roll. And nobody tells Chuck Berry how to play Chuck Berry. Just ask Keith!

Meantime (1984)

I was torn between mentioning this film or the John Cassavete's film "Gloria" (1980). Ah…. the 80's. Movies from the drought.

I can still remember stumbling across this film by chance on BBC 4 one night in my lonely room at the Columbia Hotel in London and being completely riveted. There was something different going on here. What I didn't know was that I was seeing my first Mike Leigh film. And as a bonus, making the acquaintances of Tim Roth and Gary Oldman, with their screen debuts. Something different was going. These weren't just actors saying lines. They were the characters. Nobody makes pictures like Mike Leigh.

Badlands (1973)

I once read an interview where Terrence Malick said that the cops and much of the cast in this film weren't actually actors. Anyone other than principal actors were civilians. He found that real people are less vain, he said. Felt less compelled to act. Naturally, the camera captures that. Knowing so was just one sign of Terry's gift. Another was his amazing ability to have the audience feel – and feel deeply – for the villain.

And when the deputy delivers his line while Martin Sheen is handcuffed in the back seat magic happens: "I'll kiss your ass if he don't look like James Dean." A scene I simply can't forget. It's creepy. Martin Sheen gets my vote for sexiest sociopath since Robert Blake in "In Cold Blood" or Tommy Lee Jones in "The Executioners Song."

Art can do that. Get you rooting for the bad guys.

As a songwriter always on the lookout for something to steal, and shoe-horn into a song, I can't help but notice the first line in Bruce Springteen's song Nebraska is the opening scene of the movie, "Saw her standing on her front lawn, just a-twirling her baton…" Close your eyes or keep them open: it's Sissy Spacek.

Dylan once said, "Oh yeah? Well why not write a song about that guy who went into a McDonalds and blew all those people away? I bet if he could speak from the grave he'd have a story to tell."

But can you make us care for him?

Hearts of Darkness: A Filmmaker's Apocalypse (1991)

"We were in the jungle, there were too many of us, we had access to too much money, too much equipment, and little by little we went insane."

— Francis Ford Coppola

A documentary that follows the making of "Apocalypse Now." Heart Attacks, millions of dollars in budget overages, lead actors fired after shooting starts. Now that makes for a great movie.

Having gone over budget making records as much as I have, I studied the scene where one of Francis Ford Coppola's writers talks of quitting the project only to have the director convince him that he was making the first film that could go on to receive a Nobel Peace Prize and like that he's back on the gig. That's genius. Worth studying.

It was made by Francis Ford Coppola's wife, Eleanor Coppola. She said somewhere that she suspected Francis gave her the gig just to get her out of his hair. Turns out "the brains behind pa" made a movie even more fascinating, informative, and intriguing than "Apocalypse Now."

Ghost World (2001)

Seymour: "I can't relate to 99% of humanity."

A coming-of-age teen flick movie that pivots around Skip James' "Devil Got My Woman" can do no wrong with me. And shouldn't with anyone else.

Some kind of cosmic coincidence that mirrored my own world: I once heard Lorrete Velvet sing that same song at the Antenna Club in Memphis and also became obsessed. It's a kind of blues Rosetta Stone. Everything else makes sense after you figure out what language it's written in. Here's a movie that was after my own heart.

I love the scene where Thora Birch's character Enid after buying a blues compilation LP from Steve Buscemeis' character at a garage sale takes the record home and hearing Skip James sing Devil Got My Woman" becomes totally obsessed and returns the next weekend to the garage sale. Asking Steve Buscemi's character: "Do you have any other records like that?"

He says, "There are no other records like that."

Last I heard, the writer (Daniel Clowes) was banging out a screenplay about three Mississippi kids who spent a good seven years in the 1980s making a shot-for-shot remake of Raiders of the Lost Ark. That's mystifying. Anyway, "Ghost World." It's sad when friends grow apart, especially if your best friend is Scarlet Johansson. This movie nails that feeling.

Bonus: This is where we got the expression Blues Hammer. I don't know how many people saw this movie but Blues Hammer is now part of the musician's lexicon. It's part of the vernacular. Like "gig-atoni".

Rumble Fish (1983)

"California's like a beautiful, wild… beautiful, wild girl on heroin…"

This is the movie that turned me on – made me aware what cinematography is or what it could be. Francis Ford Coppola was interviewed in a local rock magazine here called Bam Magazine when this came out. It was there I learned about the lengths they went through to make this movie look the way it looked. They actually painted the shadows on the ground. Lots of slo-mo rolling clouds, smoke and tweaked out Foley. It turned me on to moving making, to understanding that they're made.

If you read the S.E. Hinton novel, you'd know that the Motorcycle boy was deaf. Explains why all the sound is muted when our soft spoken hero Mickey Rourke speaks. It's disorienting.

Matt Dillon as Rusty James, Tom Waits as Benny. Diane Lane? Dennis Hopper? It's a feast. The soundtrack by Stewart Copeland and Stan Ridgway is brilliant as well. Really ahead of it's time.

Der amerikanische Freund (1977) The American Friend

"What's wrong with a cowboy in Hamburg?"

This is Wim Winder's take on "Ripley's Game" Starring Bruno Ganz and Dennis Hopper as the sinister Tom Ripley, a loner cowboy making his way around Hamburg dealing in forged paintings, consumed with existential angst and all the freak you'd expect in this sideways take on classic noir.

And the soundtrack is right there, "Too Much On My Mind" by The Kinks. Bruno's character Jonathan is humming it to himself while he works building frames in his little shop. It's a beautiful moment. Counterfeit as art and art as counterfeit. Fucking rock and roll.

The Object of Beauty (1991)

"I'm worth it."

Commodities broker, Jake, has just lost his nest egg. Now he and Tina (Andie MacDowell) are slumming it in a chic London hotel they can no longer afford. Or at least not willing to admit they can't afford it. They get it on, and Andie MacDowell's character takes forever to get off — but says, "I'm worth it." Who's to argue?

I'm not sure I'd want to hang out with these people. They're nasty. But they've got each other. Even if they bounce a check here and there, — one has to do what one can to keep his gal in designer threads. But it's a rare film. They don't make movies about these kinds of people very often. Maybe we'll see more of these recession blues films in the future. If I'm to believe what I read on the web, I hear Carrie Bradshaw's new husband Big runs into financial trouble in the currently-in- production Sex and the City sequel. But heck, what would I know about that?

Paris, Texas (1984)

"What the hell?"
(First line of the script.)

"Paris, Texas" came later for Wim Wenders. That was a kind of John Ford ass-buster for my generation. And here another European gently reminds us what's great about our culture and nails it to a t-bone steak. Back then, I don't know what they called this kind of thing. I guess they call it Americana now. I suppose this movie is really just a western. It ends with our hero Travis played by Harry Dean Stanton walking off in to the sunset, and those four notes Ry Cooder plays over and over? 'Nuff said.