(Almost) Everybody Loves Chris Rock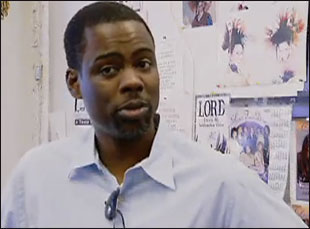 Posted by Aaron Hillis on
When Chris Rock's young daughter asked him one day why she didn't have "good hair," the comedian extraordinaire began thinking about the issues surrounding African-American women and their tresses — or rather, their painstakingly and expensively straightened or even artificial hair. Directed by Rock's Emmy-winning collaborator Jeff Stilson ("The Chris Rock Show"), the hilarious and occasionally horrifying new doc "Good Hair" investigates beauty salon culture and the lengths black women go to for the sake of self-esteem and societal pressures.
Rock himself acts as our guide, interviewing scientists about the toxicity of sodium hydroxide relaxers, schoolteachers and other working-class people who overspend on weaves (hair that comes from heads in India, another stop on Rock's journey), and celebrities like Ice-T, Maya Angelou and the man who modeled his mane after his buddy James Brown's: Reverend Al Sharpton. Framing the whole investigation is a stop in Atlanta for the Bronner Bros. Hair Show, an annual trade industry event whose headline attraction is a wild, avant-coiffure showdown between the top stylists of black hair. I sat down with Rock and his small entourage (his make-up woman was applying powder that can't be appreciated here!) to talk 'dos, don'ts and the $5 million lawsuit against the movie that was reported mere hours before our chat.
Are you tired of talking about yourself today?
You know what, doing press for this movie isn't that bad because it's not talking about me that much. The topic's actually bigger than me. Even the stuff I'm in, it's just me, so it's not like I have to make up this bullshit talk about a character: "What would the character do?" [laughs]
Then let's talk "Good Hair." You've obviously been familiar with African-American hair your whole life, so what specifically did you learn from this project?
What did I learn? The money aspect of it, especially when you're talking about someone without money, how much they spend on their hair was mind-boggling. You know that relaxer burns, but you didn't know it could eat through a can. Little stuff like that.
The film could be called an exposé. What do you hope audiences will take from this?
Art, to me, is a break from reality. I never looked at art as changing reality, [unless there's] an accumulative effect. If there were nine of these movies, I guess it might change something, but I don't know. What I look for is for people to laugh and have a good time, and hopefully, they'll remember the last time they laughed at me. "Hey, I laughed at him before! This guy really makes me laugh." This is what I hope to achieve. [laughs]
It is funny when you point out the ridiculousness, but you also bring up significant issues since many people will spend their last dollar to not have "bad hair." Could that be considered an addiction?
I think the whole country has an addiction, spending beyond their means. That's quite evident by what's been going on the last few years, with this housing stuff and what-not. Hair is not exempt from that. You could do an exposé on TVs and the amount sold to people that couldn't afford them last year. Did you need the flat screen? Americans have an addiction of too much anything, and hair is just one of those things.
You still point to the possibility of a cultural reversal. In the '70s, Pam Grier made natural hair cool and sexy, but now celebrities like Beyoncé have their fashion product deals, which perpetuate the problem. Would it take role models like her going natural to create a sea change?
Halle Berry was pretty natural, and that didn't seem to affect anything. I don't know, things are just a style. Natural will be back, because everything comes back. It's just not coming back right now. I keep saying this movie will end weaves and relaxers like "We Are the World" ended world hunger. You make an attempt.