Commemorating a revolution with movies, merchandise.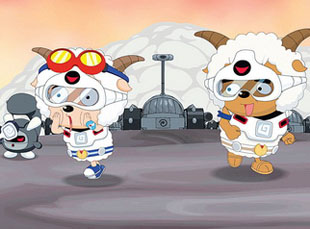 Posted by Vadim Rizov on
The People's Republic has kicked off an eight-day holiday commemorating the 60th anniversary of the revolution — there's so much going on in the country, film-wise, that I'm going to go in bullet-point style:
— In the words of the AP headline: "Communist China marks 60 years with tanks, kitsch." The tanks were part of a two-and-a-half-hour parade which, in the best Soviet tradition, showcased a great deal of weaponry. The real show came later, with an evening gala of thousands of impeccably choreographed people dancing and singing, plus fireworks, all courtesy of director Zhang Yimou, who also did last year's memorable opening Olympic ceremonies. Once Zhang made movies that were banned on the mainland; now, civilians near the Tiananmen Square parade were banned from the area for its duration.
— The all-star centerpiece of the state-sponsored movie deluge is "The Founding of a Republic," a Chinese Civil War epic that features Jackie Chan, Jet Li, Zhang Ziyi, Stephen Chow and countless other stars. It's doing well at the box office — according to official state media outlet Xinhua, it's collected $39.5 million in two weeks. There are more than enough people in China to support an internal blockbuster industry; of course, with 80 A-list names over 133 minutes, that breaks down to an average cameo of one every 1.6 minutes, which undoubtedly helps.
— Despite all this success, China's film industry lags behind in the all-important merchandise category. Moviegoers have less money to blow on tie-ins, and — as You Fei, professor at Communication University of China, explains — they "regard movies more as propaganda… which is at odds here with the casual fun of movie merchandise." There is, however, an exception: this spring's children's animated movie "Pleasant Goat and Big Big Wolf," a big-screen spin-off of a TV series which scored $11.71 million in tickets and $5.86 more on tie-ins; parents are willing to pay for tickets costing nearly $15 " just for Goat and Wolf pencils worth little more than a penny." Also, they're on Visa cards.
[Photo: "Pleasant Goat and Big Big Wolf," Creative Power Entertaining, 2009.]