Celebrating the musical apocalypse.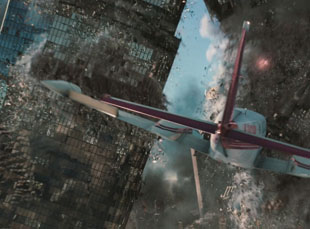 Posted by Vadim Rizov on
Though it feels like it's been advertised since 2005, "2012" doesn't come out until November 13: John Cusack, buildings get destroyed, humanity struggles against itself, the nuclear family survives, etc, etc. And now we have a music video to go with all that rote destruction: Adam Lambert's "Time For Miracles."
As a song, "Time For Miracles" is wan but inoffensive balladry: "I know this flame isn't dying," Lambert yowls, "so nothing can stop me from trying." It's the visuals that make it so bizarrely insensitive: as he sings, the American Almost-Idol strolls with impeccable rock-star cool past cars on fire, riots, people fleeing from collapsing buildings, and so on.
It actively (and intentionally?) plays off memories of the 1994 LA earthquake, in at best dubious taste. And, of course, every disaster movie this decade is a post-9/11 movie: "War of the Worlds" might have earned its explicit 9/11 quotes, but here's guessing "2012" doesn't even come close.
Apocalypse is very in right now — if "2012" doesn't suit, you can choose from comedic ("Zombieland"), animated ("9") or arty ("The Road"). But an apocalyptic music video? It doesn't even make sense: Lambert's singing about reconciliation, what's that got to do with people running for their lives? (Or, for that matter, the Eiffel Tower collapsing. Can't believe it took Emmerich this long to get around to it.) It makes Aerosmith's "Armaggedon" tie-in "I Don't Wanna Miss A Thing" look downright brilliant, with Steven Tyler & co. standing in front of a NASA logo while the world watches on TV and holds hands.
For an instructive contrast, here's "2012 The Song," by one David Jacks. "Will the shorelines submerge? Will our better selves emerge? As fire falls from above, will we remember still to love?" he asks, inadvertently summing up the entire disaster genre. And really, why must we remember still to love? Obviously, there are more pressing matters to be concerned with.
[Photo: "2012," Columbia, 2009]