"An Education" in wooing a young girl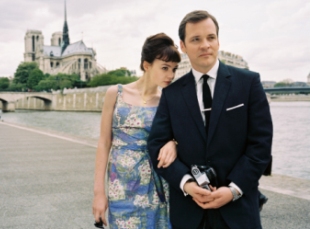 Posted by Brandon Kim on
Stories about older guys with younger girls never really go out of style, but they have changed a bit. They use to have that everyone wins feeling, Bogart and Bacall who were 45 and 19 when they met, actually married, and they are still celebrated. These films have taken on a different tone over time though, it's not all Audrey Hepburn and Cary Grant anymore.

[Carey Mulligan and Peter Sarsgaard. Photo by Kerry Brown, Courtesy of Sony Pictures Classics]
Director Lone Scherfig's "An Education" is a naughty tale about 16-year old Oxford bound schoolgirl, Jenny (Carey Mulligan) and the dashing 30-something David (Peter Sarsgaard) who tempts her to leave a stuffy bore of a life for fun, smoky night clubs, sex and Paris.
Writer Nick Hornby ("High Fidelity," "About a boy") penned the script based on a memoir by journalist Lynn Barber. True story. Set in 1961 post-war England before all the swinging hubbub had actually begun the film deals with this classic conundrum in a society on the cusp of upheaval. About this Hornby quotes British poet Philip Larkin:
Sexual intercourse began
In nineteen sixty-three…
Between the end of the Chatterley ban
And the Beatles' first LP.
Damn, couple more years and there'd be a Beatles soundtrack. Well, at least you can expect some teen dreaming to Juliette Greco. Opens on Friday, October 9th.