Broken Embraces: Almodovar, Cruz, Cat Power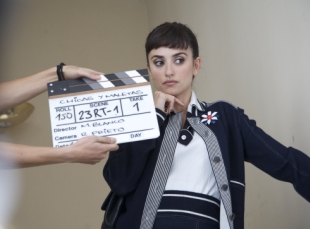 Posted by Brandon Kim on
I had a Spanish roommate around the turn of the century when Penelope Cruz was blossoming into a huge star who could not believe what a sucker I was for her. He would stand shirtless in the kitchen over a pungent pot of puttanesca and tell me that she was a terrible actor, that she was like a whore. Whenever we would see a cute brunette with big brown eyes out at the bars (with which we were hopelessly distracted) he would inevitably launch into a rant against Penelope. "If you could only hear her as I do in Spanish, how stupid she sounds," he would say.
[Penélope Cruz. Photo by El Deseo, courtesy of Sony Pictures Classics.]

He claimed her English, while maybe adorable to Americans, was even more offensive. It's hard to argue with such a position and biased by her looks I considered myself an unreliable judge so I took his word for it. I think it was "Captain Corelli's Mandolin" that finally pushed him over the edge. He moved back to Europe and haven't seen him since that film. He probably has a girlfriend who looks just like her. Only recently has it become clear to me that Cruz is the great actress I thought she was. She proved that definitively in last years "Elegy" opposite Ben Kingsley in case there was a remaining doubt.
Pedro Almodovar too is a great fan of Penelope Cruz, having cast her in four of this films now with "Broken Embraces." It's a four way "amour fou" story about a writer/director who fourteen years prior lost the love of his life and eyesight. The film moves between the present and the past mixing drama and comedy with noir which Almodovar has dabbled with before ("Live Flesh," "Bad Education").
Cat Power's "werewolf" is on the soundtrack and while I have yet to screen the full film it does wonders in the international trailer (below). I think it was also in 09's "Powder Blue" but who the hell saw that? Regular Almodovar composer, Alberto Iglesias returns to score the film after Steven Soderbergh's 2 part "Che" epic.
"Broken Embraces" opens in the US November 20.