Boston, home of the new American noir.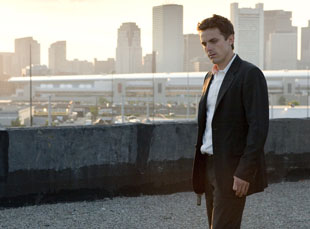 Posted by Vadim Rizov on
Ben Affleck's directorial debut "Gone Baby Gone" is one of the best American movies of the decade, though somehow most people never found out (it stalled at $20 million domestically). Its greatest achievement is its sense of place — shooting in Boston, Affleck spent a lot of time highlighting the terrifying alcoholic faces of the city's poorer residents. "By rule you have to use a certain number of SAG people," he explained. "But SAG extras have a certain look — they're put together. So I said: 'O.K., we'll use the SAG actors. I just don't want to see them." What he got was some of the scariest verisimilitude this side of "The Wire."
Boston's become the setting of choice for utterly unromanticized noir. At the Boston Phoenix, Peter Keogh considers the resurgence of filmmaking in the city. For years, it was too dangerous to shoot in: teamsters would extort the productions, gunmen would steal film. Then Clint Eastwood rode in on his white horse to shoot "Mystic River" and changed everything. "If you stick me up, don't stick me up too heavily," Dennis Lehane recalls him saying. The film brought attention to Boston as a location, tax breaks were passed, and around 26 films have been shot in the area since.
Some flicks come to town for the tax breaks and get all generic: "The Proposal" added CGI mountains to turn Boston into Alaska, "The Pink Panther 2" went for Paris. Then there's the Zakim Bridge, now in a dozen films and counting, becoming, as Keough notes, "our version of the Eiffel Tower." Still, Boston qua Boston is a new noir playground: Affleck's back shooting another crime movie ("The Town"), and Scorsese's "Shutter Island" is on the way.
In tumultuous times like these, we need a new flavor of noir. And maybe, as Lehane puts it, that will mean "a darker kind of blacker, more Boston type of comedy. The idea that God's a bit of a jokester — and we're the punch line."
[Photo: "Gone Baby Gone," Miramax, 2007]