Boondocks, Babysitters and Broncos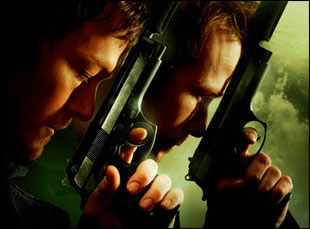 Posted by Neil Pedley on
A Halloween week surprisingly light on horror sees instead some romantic dust-ups, courtroom showdowns and an epic battle of egos waged across the vast cosmic expanse of time and space.
Subscribe to the In Theaters podcast: [XML] [iTunes]
"Aladin"
While much of Bollywood's output has a touch of the fantastical, this contemporary adaptation of the classic fairytale cranks things up to a whole new level. The latest from Indian director Sujoy Ghosh, this romantic fable finds Ritesh Deshmukh as the eponymous hero, a ne'er-do-well bullied by local thugs whose life transforms when his childhood crush gives him a magic lamp containing a genie (Amitabh Bachchan). Eager to be released from his teapot-shaped prison for good, the fast-talking trickster pressures our befuddled hero to make wishes until things turn ugly when the lamp's former occupant (Sanjay Dutt) shows up. In Hindi with subtitles.
Opens in limited release.
"Boondock Saints II: All Saints Day"
Despite running on a mere handful of screens for just a single week during its theatrical release a decade ago, former bartender-turned-writer/director Troy Duffy's hard-boiled crime thriller about a pair of Boston brothers-turned-vigilantes has attained cult status, in spite of continued derision from many confused critics. While Willem Dafoe has bowed out, Sean Patrick Flanery and Norman Reedus are back as the McManus brothers, who come out of hiding in Ireland to return to their old stomping grounds when they discover they've been framed for the murder of a local priest.
Opens in limited release.
"The Fall"
Brotherly love is put to the test in this brooding psychological thriller, the feature debut from commercial director John Krueger. Scott Kinworthy co-stars as a hotshot D.A. on the fast track to the governor's office until his black sheep younger brother Tony (Benjamin Ciaramello) is arrested for a murder of a priest (apparently in vogue this week). As he uncovers evidence that will clear Tony, but will certainly spell the end to his own career, Frank finds himself in an impossible position. Perhaps he should call the Boondock Saints.
Opens in Los Angeles.
"Gentlemen Broncos"
Along with his wife and writing partner Jerusha, Idaho native Jared Hess has evolved into a valiant champion of nerds and underachievers everywhere, and now proudly marches off into yet another dimension with this psychedelic tale of interplanetary ineptitude. Hess' third directorial outing finds Benjamin (Michael Angarano), an aspiring fantasy writer picking up the shattered pieces of his dream from a sticky convention suite carpet after his favorite author and hero, Dr. Ronald Chevalier (Jemaine Clement), steals his manuscript and publishes it under his own name. Sam Rockwell co-stars as the title character in two versions of the plagiarized book in question.
Opens in limited release.
"The House of The Devil"
Besides moonlighting recently here at IFC.com with the vampire dating series "Dead & Lonely," Ti West has been earning raves for this defiantly lo-fi throwback to '80s horror flicks. Based on a series of "unexplained true events" (which, these days, sadly carries more threat than promise), West's nod to Roman Polanski's "Apartment" trilogy and films like "Burnt Offerings" sees a bright-eyed but cash-poor college girl (Jocelin Donahue) respond to an ad for a babysitter. She winds up experiencing all sorts of strange occurrences in the creepy Victorian house of an even creepier couple (Tom Noonan and Mary Woronov) on the eve of a lunar eclipse. Oh, and there's no baby, either.
Opens in limited release.
"How to Seduce Difficult Women"
…Nah, too easy. Contrary to what the title might suggest, this is sadly not the Frank T.J. Mackey spinoff that fans of P.T. Anderson's "Magnolia" have long been hoping for, although the general idea isn't far off, if a touch more benign. The writing/directing debut for indie producer Richard Temtchine, this good-natured romantic dramedy finds the impossibly named Louis-Do de Lencquesaing in the role of Philippe, a cross-continental Casanova who takes ten crass American men under his wing to school them in the art of seduction, a course that will ultimately test his own game to its very limits.
Opens in New York.