Welcome to Hugowood, where revolution rules.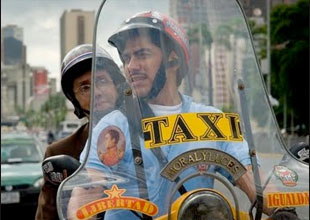 Posted by Vadim Rizov on
Hugo Chávez is having a movie moment. The Venezuela president is the subject of a fawning Oliver Stone documentary. He's had visits from Sean Penn, Danny Glover and Kevin Spacey. (And, of course, Tim Robbins, if it even needs to be said.) And, as I pointed out last month, his anti-golf politics have a lot in common with Alex Cox's "Repo Man" sequel — trendy!
And now, Chávez has got his own film studio — La Villa del Cine — and they're intent on pumping out movies that get behind his agenda. The official slogan: "Lights, camera, revolution!"
Mac Margolis' Newsweek profile of the studio is pretty harsh. I'm not necessarily Chávez's biggest fan, but Hitler/Mussolini comparisons seem, at the very least, premature. That said, it's no surprise that Chávez is going as dictatorial over the Venezuelan film industry as he has been in every other aspect of the country's life. Margolis offers an anecdote about director Jonathan Jakubowicz, who was sued for making 2005's "Secuestro Express" — about Caracas kidnappers — for "undermining our revolution." Shades of the USSR there, for sure.
But Margolis goes further, pointing out that "La Villa del Cine" means, like Mussolini's "Cinecitta," the "city of cinema," which doesn't come off as meaningful as he'd like. Until Venezuela closes itself off to the outside cinematic world and mandates watching terrible state-produced films (or, you know, throws its dissenting directors in the gulag), Hitler comparisons seem awfully alarmist. And La Villa's biggest hit this year — "Libertador Morales, the Justice Maker" (taxi driver by day, crime-fighter by night) — grossed $200,000 to "Ice Age: Dawn of the Dinosaur"'s $11 million plus. Clearly cinematic fascism still has a way to go.
The real question here should be if Venezuelan cinema outside the state-run production is genuinely suffering, and that's something Margolis doesn't get around to answering. Comparisons to China — where a wrong cinematic move can lead to years of being officially prohibited from directing — would be closer to the mark.
In any case, thanks to Newsweek's accompanying slideshow of totalitarian cinema for pointing me in the direction of 1985's "Pulgasari," the last of the seven movies director Shing Sang Ok made after being kidnapped by Korean dictator (and avowed cinephile) Kim Jong-il, a "Godzilla-like film is about a corrupt ruler who starves his country's peasants" that's unconscionably, rubber-suit hilarious:
[Photo: "Libertador Morales, the Justice Maker," Fundacion Villa del Cine, 2009]