"Arrested Development" Arrives on IFC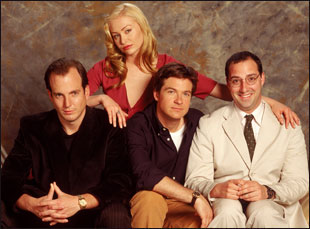 Posted by IFC on
"I'm doing the time… of my life!" "Arrested Development" is coming to IFC — yes, all three seasons of the Golden Globe and Emmy Award-winning comedy series.
We'll be launching the show on Sunday, October 25 at 10pm, and from there will be airing two episodes back-to-back, Sundays at 10pm, and Tuesdays at 9pm in the Automat.
Created by the Academy Award-winning team of Ron Howard and Brian Grazer, "Arrested Development" stars an ensemble cast led by Jason Bateman, Michael Cera, Henry Winkler, Jeffrey Tambor, Will Arnett, Jessica Walter and Portia de Rossi. The show, which originally aired on FOX from 2003-2006, follows the Bluths, a formerly wealthy, habitually dysfunctional family and is presented in a pseudo-documentary format, incorporating hand-held camera work, narration, archival photos and historical footage.
"Arrested Development" earned itself a spot on Time Magazine's 100 Greatest Shows of all time list.
Have a favorite quote from the show? Leave it for us in the comments.