Ariana Delawari, David Lynch, "Be Gone Taliban"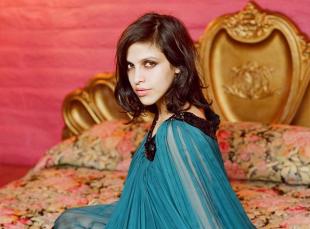 Posted by Brandon Kim on
Ariana Delawari recorded most of her debut, "Lion of Panjshir," in her parent's home, but it's not as pedestrian as it may sound – her parents live in Afghanistan. She decided to take the opportunity to make the record in '07 when it looked like the deteriorating situation could radically destabilize again. "I had the feeling that things were shifting–that I may never have the chance to record there again." You can thank Bush for misadventuring in Iraq.
A few months later she was jamming with bandmates Max Guirand and Paloma Udovic in Kabul along with three Afghani musicians on tabla, rabab (a plucked stringed instrument), and an 88 year-old master dilruba player. Not the smearing of herbs, a dilruba is an sitar-like instrument of Indian origin that's played with a bow instead of plucked.
The record was later finished in LA with David Lynch in on the mixing and he produced a track called "Suspend Me." It sounds very Julee Cruise. No one continuously plays with same themes and styles over again with as much genius as Lynch. I read that his wife, Emily Stofle Lynch, is working on a documentary of the making of Delawari's record in Kabul.
"Lion of Panjshir" is out on Lynch's label, David Lynch Mc and Manimal Vinyl. Check out Delawari's "Be Gone Taliban."

Download: "Be Gone Taliban," by Ariana Delawari.
More: There's some video of the proceedings on this blog about Central Asia.