American Artifact: The Rise of American Rock Poster Art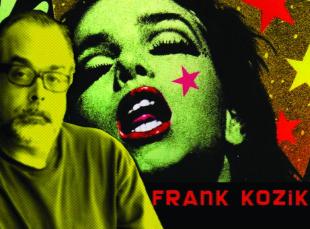 Posted by Brandon Kim on
I have a love-hate relationship with rock posters. Like many people who get involved in the music biz, I found them to be a complicated necessity. Anyone can make up a show poster, but not anyone can do it well. There are a lot of eyesores out there that just remind me of how many beautiful trees are felled so some kid can scrawl another scratchy cartoon figure with a name and date on another 500 stack of 11 x 17 sheets at kinkos. But at it's best, a rock poster is at once an expression of an artist, a band, and a time. It is a cultural snapshot, a work of art.

[90s artist, Frank Kozik in front of his famous "Green Girl"]
Director Merle Becker's "American Artifact: The Rise of American Rock Poster Art" takes a look at this art forms beginnings in the 60's through today. Becker hit the road to interview rock poster artists of all ages, some legends from past era's and the documentary is largely a look at the "movement" through their work. The film shines best when it stays with the some of the wild older guys who could give Timothy Leary a run for his blotter.
As someone who once tried his hand at making show posters, this film holds special interest for me. I did most of my (cut and paste + zerox + photoshop, no real illustration) work in an ignorant vacuum never really looking into what I was doing or where it fit in to a larger cultural picture. I recommend "American Artifact" for anyone who made a show poster or coveted one. Or anyone who likes checking out blown out 60's artists.
"American Artifact" kicks off the The Royal Flush Festival in NYC this Thursday evening, 7pm, at Anthology Film Archives.