Amelia Earhart: Fashion pioneer, lousy pilot?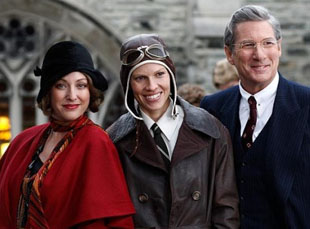 Posted by Vadim Rizov on
"Amelia" looks like the kind of splashy biopic that might as well come with the title suffix "Oscar Bait," but the reviews are rolling in, and it's looking like the awards thing won't be happening. All the cultural activity surrounding "Amelia" is turning out to be more interesting than the movie itself.
Tuesday's premiere party was held at Bloomingdale's in New York; the department store chain is pushing the "Amelia look" at nine locations across the country. It sounds daffy to me, but Cinetic's Matt Dentler thinks it's a good idea, "considering that a huge demographic for the film (older women) is also a demographic that will shop at Bloomingdale's." But doesn't a movie have to make money first to start a tie-in fashion craze? The idea is that Amelia Earhart wasn't just a female aviatrix: she was the first celebrity one, creating her own fashion line, luggage etc.
It's an idea that appeals to director Mira Nair, but one that gets under the skin of The Atlantic's Lane Wallace:
As a woman pilot myself, I suppose I should be excited about having attention turned, once again, to one of our own. It's just…enough about Amelia, already… [S]he was far from the only [woman pilot], and far from the best at what she did. She was only the best known — which was a feat, indeed, but one that was more the result of her husband's publishing and marketing savvy than an organic result of her own accomplishments. And on some level, I think a lot of women pilots chafe at the title of "most famous woman pilot" being conferred on a woman who, in the strictest reading of things, skimped on navigation preparations, got lost and crashed.
Which is funny and coincides nicely with Nair's presumable vision. Where Nair finds it liberating and prescient that Earhart became better known for her persona than accomplishments (celebrity, indeed), Wallace is wondering why we should tramp off to celebrate this. The answer remains the same 80 years later: name recognition trumps achievement. It's why biopics persist.
[Photo: "Amelia," Fox Searchlight, 2009]