Why "Batman & Robin" is "the most important comic-book movie ever made."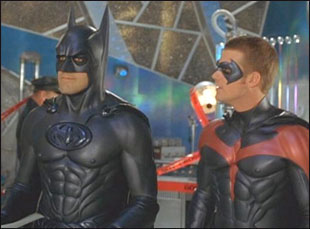 Posted by Vadim Rizov on
Ten years ago, when Akiva Goldsman was overwhelmingly associated with writing "Batman & Robin," the film that temporarily killed a seemingly infallible franchise, the idea that he'd be back on top in Hollywood because "his populist tastes, skill with story and that old comic-book collection make him a man for the moment in Hollywood" would've been unthinkable. But that's how Geoff Boucher describes the writer, producer and soon-to-be-director in a glowing profile in this weekend's Los Angeles Times.
Yes, you can recover from taking part in making one of the worst superhero movies ever, and apparently even be congratulated for it. Boucher quotes Marvel Studios' Kevin Feige, who, when speaking on a panel back in June, claimed that "Batman & Robin" "may be the most important comic-book movie ever made. It was so bad that it demanded a new way of doing things. It created the opportunity to do 'X-Men' and 'Spider-Man,' adaptations that respected the source material and adaptations that were not campy."
Beyond implying that Goldsman's major achievement is revolutionarily negative, Feige's quote also suggests that the entire history of comic book movies up until the '00s was one campy travesty after another. Which is a point you could definitely argue — even the big comic-book successes (the Christopher Reeve "Superman" and Tim Burton's distinctive but not entirely faithful "Batman" movies) were light enough in their touch to seem flippant.
But, despite personally digging the "Hellboy" movies, the last two "Spider-Man" films and "X2," I never could go whole hog in treating comic books as if they had the same heft and weight as their stuffier literary counterparts. So I have question the idea that comic book movies were steadily headed down the wrong path before Goldsman inadvertently forced the issue — though, as president of freakin' Marvel Studios, I'm sure Feige has more invested in the issue than me.
Let's say this: there's nothing wrong with treating comic-book material lightly, any more than there is in treating it with the greatest reverence. "Batman & Robin" was awful, sure, but we now have the opposite problem, with superhero mythologies getting treated with Talmudic reverence and investment. 30 years of comic-book irreverence generated their own special currency — like Reeve's indelible "Superman" — and that shouldn't be completely thrown out. Why so serious, indeed.
[Photo: "Batman & Robin" nip out, 1997, Warner Bros]