You always adapt the ones you love.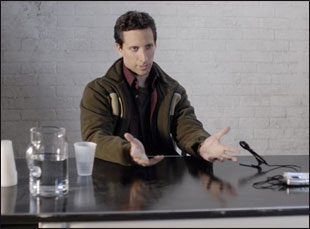 Posted by Vadim Rizov on
Is David Foster Wallace really as adaptation-proof as everyone's always said? The mediocre reviews for John Krasinski's "Brief Interviews with Hideous Men" aren't exactly encouraging on that front. At the Guardian, Danny Leigh believes that the film's problems lie partially in the book Krasinski chose, a short story collection that's no place for novices to start, and the fact that turning it into a very literal adaptation (boiled down into condensed monologues) "risks presenting this most fiercely empathetic writer as somehow akin to the smug, tin-eared misanthropy of Neil LaBute." He suggests Wallace's hyper-verbal prose would best be served by being adapted imaginatively, springboarding off the plots rather than the language.
The truth, I think, is that DFW belongs firmly on the page rather than on-screen. It's not that his work lacks for strong comic dialogue, just that what the language is actually doing is mapping out thought processes and internal struggles in a way that rob actors of their work. Mining the books for their plots seems kind of pointless. That said, as a fervent DFK fan, Krasinski's film does work for me on several levels. It's nicely filmed and has a free-floating structure reminiscent, at times, of Roy Andersson, even if ultimately the spark of the thing doesn't get conveyed.
Most of all, "Brief Interviews with Hideous Men" is a doomed, defiantly uncommercial act of homage that anyone immersed in DFW's work should find moving for the intensity of reverence Krasinski shows. In some ways, the expansions he brings act as successful annotations of the book. By grounding the monologues in the context of a grad student's study, Krasinski reminds us how deeply Wallace (who completed not one but two senior theses, and who brought the academic footnote/endnote along with him to his work) was immersed in campus life — something implicit but almost never stated in his work.
While many of the monologues are clear acting 101 exercises, a few highlight often-forgotten traits in DFW's work. See Bobby Cannavale as a man with one arm who exploits his ostensible weakness as a way to get women to pity and sleep with him; Cannavale (possibly our finest embodier of loud-talking mooks) absolutely nails Wallace's oft-overlooked sensitivity and feel for the saltier kinds of lower-class vernacular. Then there's Frankie Faison's furious speech about his father's career as a bathroom attendant. The staging's a little wonky (bringing Faison into the imagined space of his father's career brings about inadvertent flashbacks to "The Shining"'s Overlook Hotel), but Faison's delivery salvages it and reminds us that Wallace was as keenly attuned to the decidedly non-post-racial dynamics of white-black interaction in America. People focus on Wallace's emphasis on depression and upper-middle-class white problems to an absurd degree; Krasinski reminds us how many voices are knocking around in there. As a movie, it may be a mess, but as a kind of cinematic marginalia for fans, it's totally worthwhile.
[Photo: "Brief Interviews with Hideous Men," IFC Films, 2009]