A fine romance, with no kisses.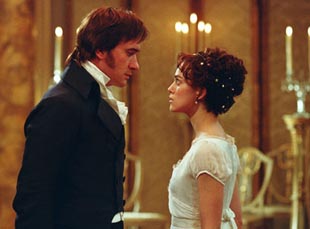 Posted by Vadim Rizov on
When making a romantic movie, you traditionally have to include, at the very least, either some lip-locking or use of the word "love." Which could be a problem for "Atonement" director Joe Wright, whose next project is an adaptation of "Indian Summer: The Secret History of the End of an Empire" by Alex von Tunzelmann.
Though it sounds like one of those books about how the discovery of a spice or the invention of the toaster oven changed the world, it's actually a history of the affair between Jawaharlal Nehru, India's first prime minister, and Edwina Mountbatten, the wife of the country's last English viceroy. Hugh Grant and Cate Blanchett will play the British leads, while Bollywood (and "Slumdog Millionaire") star Irrfan Khan will play Nehru.
And now reports are coming in that Nehru's Congress Party — currently the leading political party — will only approve filming in India if neither kissing nor "love" mentioning happen; scenes of Nehru and Mountbatten in bed are, obviously, not in the realm of discussion.
Officially, according to the Indian government, the affair never happened; no matter if Mountbatten died with letters from Nehru scattered across her bed. They want a notice slapped on the film saying it's fiction even after all the platonic changes are shoehorned in. Nehru's niece — author Nayantara Sahgal — claims any portrayal of the relationship as sexual is pure speculation and goes one better: "What they had was a long-lasting relationship of love and friendship. And I think it was a very rare relationship based on a meeting of minds and a genuine respect and admiration for each other." Which sounds nice for all involved, but, filmwise, even more starched-up than the work of Jane Austen, which provided the source material for "Pride & Prejudice," Wright's first movie.
Of course, given that India has in the last decade seen movie-induced rioting over lesbians on screen, the term "slumdog" and straightforward ticket shortages, maybe the government is just as interested in preventing destruction as in keeping the relationship hidden. It's easy enough to imagine what would happen if a film was released showing India's first prime minister in even the most fifth-grade-style relationship. Either way, I look forward to Hugh Grant's chastest romance yet. Or, even better, Toronto standing in for Delhi.
[Photo: "Pride and Prejudice," Focus, 2005]