Why Wisconsin won't be the next Hollywood.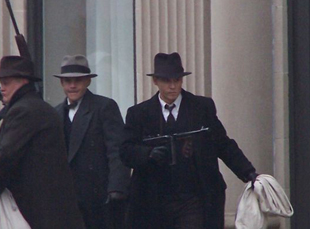 Posted by Vadim Rizov on
A few years ago, states were playing tax incentive chicken with each other to see who could offer the best deals to lure film and TV productions away from the familiar confines of California and Toronto to shoot in their neck of the woods. And now they're paying for it. As the Los Angeles Times reports, some of those states are starting to find that those tax breaks don't always add up.
When Wisconsin's Department of Commerce looked at the 32 days "Public Enemies" spent shooting in Oshkosh, Columbus and Madison, they concluded the production had received $4.6 in tax money and the state had only gotten back about $5 million. The numbers are arguable (advocacy groups claim Wisconsin actually got $7.4 million out of the deal), but the economics are clear: it doesn't make sense for nearly every state in the union to try to outdo the other. "The bottom line is, there really aren't enough film productions in the United States for every state to play in this game, and eventually the states where it doesn't make economic sense aren't going to be players," New Mexico's Peter Dekom says. And he's absolutely correct: there's no exponential supply/demand curve for Hollywood film productions.
As the article notes almost in passing, all this competition has been "a major contributor to the sharp falloff in industry employment in Southern California." And as one state after another jumped into the game, they undercut each other in ridiculously short order. The idea that states could cultivate lasting relationships with studios over time — regardless of competing incentives — doesn't make much sense. Take Texas: last year, the Austin Chronicle reported that between 1998-2006, studio films gave Texas $530 million and 8,300 crew jobs; in 2007, it was $300,000 and 20 crew jobs. Total. There was a mad spiral of competing incentives when Texas realized Louisiana and Oklahoma were stealing away productions with their own incentives, with crews and productions migrating accordingly.
There's no way every state could possibly hope to become — now and forever — the new capital of American filmmaking. And until that levels out, everyone's gong to suffer and live out of suitcases.
[Photo: "Public Enemies," Universal Pictures, 2009]