When Judi Dench swears, people cry.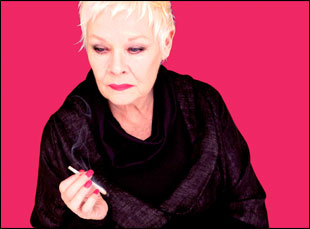 Posted by Vadim Rizov on
Here in the U.S., Judi Dench is gazed at with the same gauzy reverence given to all British actors with crisp enunciation, but in the UK she's a bona fide cultural treasure (she was once voted second only to the queen as the most-liked and respected Brit in a poll). Which is what makes the long, prickly profile of her by Kira Cochrane in the Guardian so great. For one, she doesn't care for the designation: "That sounds pretty dusty to me. It's [playwright] Alan Bennett and I behind glass in some forgotten old cupboard. I don't like it at all."
I suppose the closest America has to the actor-as-cultural-institution is someone like Jack Nicholson, but he doesn't come close to the remarkable ubiquity Dench has in her home country. She credits it to Harvey Weinstein and television: Weinstein for taking "Mrs. Brown" from BBC TV movie to unlikely star vehicle ("Harvey's name [is] tattooed on my bum," she claims) and veteran sitcoms like "As Time Goes By" for keeping her in "in people's sitting rooms a lot," where her beatific, unthreatening glow can thrive in perpetuity. So saintly is her perception, in fact, that the BBFC (the UK's MPAA) reported that every film she swears in generates complaints, something that makes her wonder if she's failed as an actress: "Can't they for a minute think that I am playing another person, in another world, with another personality? Must they write and complain that it came out of my mouth?' I was very depressed about it."
There are more memorable quotes — in response to Ian McKellen's suggestion that audiences fall in love with her no matter the role she plays, Dench sasy "Crap! Crap. He's talking through a hole in his arse" — though in particularly British fashion, the profile gets uncomfortably invasive, with Cochrane asking Dench, whose husband of 30 years, Michael Williams, died in 2001, if she is sometimes lonely. It's hard to imagine any American as comparatively famous who'd put up with such a question, which makes the articles just as much a cultural lesson in how even the most venerable British people have to put up with some kind of ritual humiliation.
[Photo: Judi Dench in "Rage," Adventure Pictures, 2008]